TOP 5 EPIC LIVE POKER HANDS AT HUSTLER CASINO LIVE IN 2022


What an epic year it has been for Hustler Casino Live, by far the most popular online live poker show in the world. Massive pots, possibly the most memorable hand in modern poker history, Phil Hellmuth receiving (what he deserves) what some might consider karma, a player considered "tight" getting a crazy bluff and the hero getting revenge on a villain.
That sums up the five hands you're about to see.
Hustler Casino Live has produced too many memorable moments over the past year to narrow it down objectively, but we were able to narrow it down to what we thought were the most memorable.
The Hustler Casino Live Twitter account asked fans to name their best hands of 2022, and there were the answers…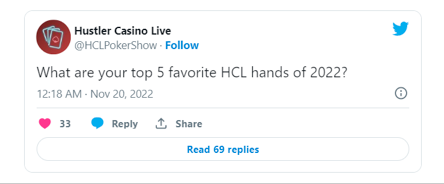 Some of the hands that were mentioned and deserve recognition but didn't make it to our list include Mikki Mase bluffing Garrett Adelstein with 4-5 and then bluffing, Adelstein dropping kings on a dry board facing pocket pocket Andy "Stacks" aces. Tsai, Wesley Fei winning with a set-over-set against Adelstein and then pinning his opponent after taking down the huge pot, and many other great moments.
But here are our 5 #FAVS
Hand #5: What would you do for a 10?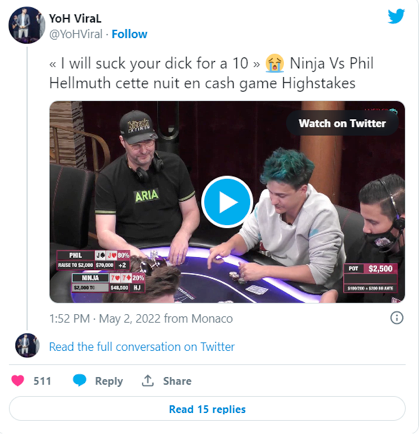 In May, Hustler Casino Live hosted their most memorable and arguably their best game ever when they brought in YouTube and Twitch celebrities like #MrBeast and Ninja to take on Hellmuth and Tom Dwan in one of the wildest games you'll ever see. The game reached over 100,000 concurrent viewers, easily a record for poker streamed live on any platform.
Hellmuth, one of the game's two pros, was heavily criticized for entering the high-stakes table short-stacked against a group of recreational players who were sloshing around. With pocket J♠ and J♥ he moved all in with Ninja for around $50,000 and was called with 7 7♥.
The "Poker Brat" almost had his hand locked up when the flop came Ace of ♥J♦K♠ , but a Q♦ on the turn gave the Twitch gaming streamer a ray of hope to bite.
"I'd suck a dick for a 10" Ninja yelled at the dealer.
Guess what card came up on the river? Yes, the magical 10-ball that created perhaps the most memorable chop pot of the year in all of poker.
"Ninja, do you stay true to your word?" Mr Beast asked.
Hand #4: Bill Klein's Massive Poker Bluff
BLUFF OF THE CENTURY?!? You won't believe what Bill Klein did...
Bill Klein, a wealthy charitable businessman, is one of the most respected high rollers in poker. But the recreational player has a tight player image at the table. He used that to his advantage during an October pot, in what may be the bluff of the year.
Brian Kim raised to $1,000 with a straddle to $400 from middle position. Action retreated to the straddle, Klein, who just called with Ace of ♣ and K♠, proving that his tight player image was justified.
The flop came [10s5h4] and it was passed to the pre-flop raiser who bet $1,600 and was called. When the 5♦ matched the board on the turn, Kim continued to build the pot, this time betting $4,000. Klein called and saw the 5♠el on the river, and made the surprising decision to lead, putting in $13,000 into a pot roughly the same size.
Kim, who was just worried that his opponent had a 5 or a pair of 10s, felt he was fine, so he raised to $50,000, leaving about $77,000 behind. Klein, who had him covered, surprised Hustler Casino Live commentator Marc Goone when he third-bet to $127,000, a gutsy move from a player not known for making such moves.
Kim would eventually decide to fold, smelt the dreaded 5 of his or worse, allowing Klein to take the pot and pull off one of the best bluffs of the year.
Hand #3: Largest pot in US live poker history.
A JACKPOT OF $1.2 MILLION!! Alan Keating won the largest jackpot in US poker broadcast history.
At the end of the year, Alan Keating, in one of the show's most popular plays, won the largest jackpot ever broadcast in US poker history for nearly $1.2 million. The hand was played against a player named "Handz" who tried to turn his ace-of-spades blocker into a bluff on the river, but couldn't convince his opponent, who had a king-high flush, to fold.
Here's how the hand played out: Handz raised to $9,000 on the button with Ace♠ and "Blank Check Ben" called with 7♥8 and 5♣ in the small blind, as did Eric Persson with ace of diamonds and jack of hearts, in the first straddle. Keating, the $1,600 straddle, was going nowhere with K and 2♠ and all four players saw a flop of [5d10s6], which really only welcomed Keating, who hit a flush draw.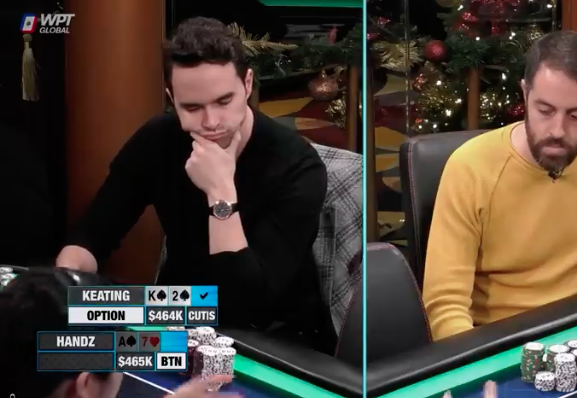 The action passed to Handz, who had hoped to win with an aggressive $25,000 bet, but failed to pull back his opponent. The turn was the 4♦ and Handz made another big aggressive bet, this time for $70,000. Once again, the bet didn't scare the opponent out of him.
The heads-up players hit the turn, which was the 7♠, completing the flush for Keating, who decided to take the lead this time and represent a great hand, which he actually did have, by betting $155,000. With nothing more than a small pair on a four-to-a-straight table, Handz made a pretty gutsy move by betting $465,000.
Keating collapsed for a couple of minutes, but eventually called to win a pot of over $1.15 million, the largest ever at Hustler Casino Live and in US poker history.
Hand #2: Adelstein Serves Revenge to Slow-Roller
A jackpot of $390,000!!! Garrett Adelstein vs Dylan Gang…
In case you don't know, a "slowroll" is considered a practice considered unsportsmanlike in poker that involves delaying a situation where a player is winning insurance to give the impression that he is losing. Normally the slowroll occurs with the nuts and it is considered that taking time to reveal the cards, exaggerating and overthinking if more players are not involved, is acting in a way that does not correspond to the initial logic of an instant call. Kind of disrespectful...
In February, the Dylan Gang slowrolled Adelstein, in a $200,000 pot, but his opponent didn't give him much of a negative reaction. Instead, he silently waited for his chance to exact revenge.
That moment came just a week later when on a board of 6♥ 2♦ 9♦ and 10♥, Gang moved all-in for $167,000 with Ace and 4♥ for his flush draw. Adelstein called with 10 and 9 of clubs, creating a pot of $389,500. They rivered once, which was the 2♠, a full brick.
Gang came out of the game a six-figure underdog and hasn't appeared on Hustler Casino Live since. Ironically, his opponent in this very hand has also been absent from the HCL for quite some time, but we'll see that in the next hand of the year!
Hand #1: Robbi vs. Garrett
The craziest "Hero Call" in poker history or an unresolved "trick"?
There probably won't be much debate about which hand should be in first place. It is and has been the most viewed hand in poker history, not just at Hustler Casino Live. We have talked about everything related to her, several times. Some do not like to remember what happened, but this hand, poker is still living history!
On September 29, 2022, Garrett Adelstein went all-in with 8 and 7♣ for $105,000 on a board of 10♥ 10 and 9♣ and 3♥, and was mysteriously called by recreational player Robbi's J♣ and 4♥. Jade Lew, who was making her second appearance on the show.
The rest is history, as you can read here, here, here and why not here too!
After the river blocked twice, giving Lew the pot, Adelstein complained and accused his opponent of cheating. He couldn't believe someone could make such a call with jack high and no draw.
The cheating allegations created the wildest jokes on Twitter about poker. Even major news outlets like Yahoo!, the Los Angeles Times and the New York Post picked up the story.
It has never been proven that Lew cheated, nor has it been proven that he did not. Thousands of poker players have accused him of nefarious behavior, but there are also many or more who believe that he is innocent. Shortly after the hand, Lew returned $135,000 to Adelstein to, as she says, defuse the situation.
We may never know the truth, and we may never get to see Adelstein, the show's most popular regular, return to the Hustler Casino Live stage. Her reputation as one of the classiest players in the game has been tarnished by those who believe she didn't cheat on her and that he "bullied" her into paying him back.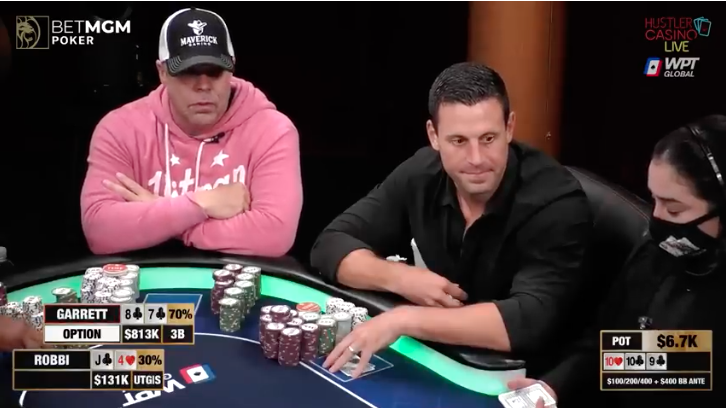 The longtime Los Angeles high-stakes poker legend has stuck to her belief that she cheated. Despite the fact that the latest investigations of Hustler Casino Live exonerate it from all guilt and that the player has ended up accepting the conclusions of the investigation.