DOYLE BRUNSON: THE FATHER OF MODERN POKER
The world of poker has lost one of its most emblematic figures today. Doyle Brunson, the great patriarch of poker, has passed away, leaving behind an immense legacy in a game he helped popularize and define. But who really was this man, nicknamed "Texas Dolly", who became a living poker legend?

Doyle Brunson: the man behind the legend
Born in 1933, Doyle Brunson grew up in Longworth, Texas, a tiny town in the middle of nowhere, where he learned to appreciate the simple life. In high school and college, he proved to be a talented athlete, earning a scholarship to play basketball and track. But an accident that broke his leg when he was young changed the course of his life forever, drawing him into the world of cards.
In his youth, Doyle discovered that he could earn more money playing poker than any conventional job. As explained in more detail in this article, Doyle worked hard, honed his skill, and soon found himself playing in the biggest poker games in Texas. It was in these years that Brunson began to forge his own legend, taking on gunslingers, cheats, and the mob.
However, his life was not just a series of wins at the poker table. Doyle overcame cancer twice, demonstrating his incredible resilience and strength of character. His physical and mental stamina earned him immense respect both at the poker table and off it. Brunson was known for his generosity and his sense of humor, always ready to tell an anecdote from the old days or share a laugh with his playmates.


Dolly Brunson and the WSOP
Doyle Brunson had a profound and lasting impact at the World Series of Poker (WSOP). With his ten gold bracelets, he stands at the pinnacle of poker's elite, alongside names like Phil Hellmuth and Johnny Chan. But Brunson's importance to the WSOP goes beyond his impressive number of wins.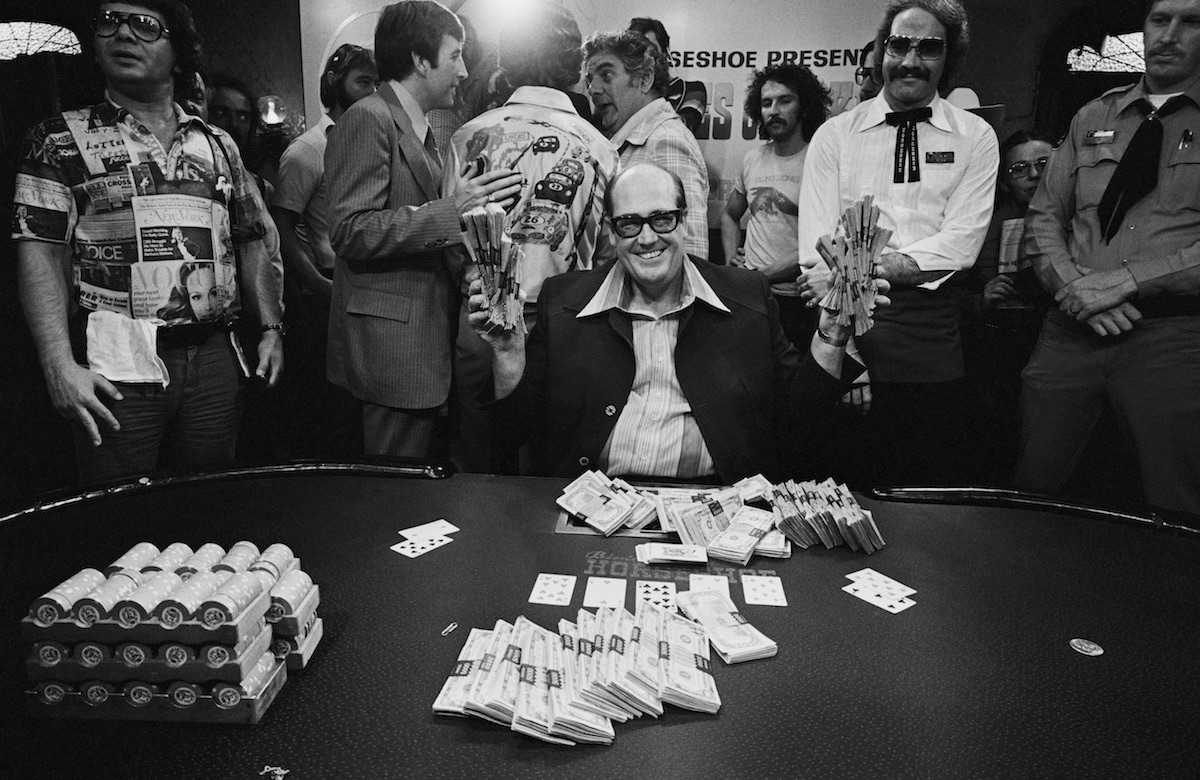 One of the defining moments in WSOP history, and indeed poker history, was when Brunson won the main event back-to-back in 1976 and 1977. Most notable about these victories is that Brunson won both times with the same hand. final, a ten and a two. This seemingly insignificant pair of cards has been dubbed the "Hand of Doyle" in his honour.

These victories, and the way he achieved them, captured the public imagination and helped raise the profile of the WSOP. Brunson became something of a poker superhero, and his presence at the WSOP each year was a huge draw for fans and players alike.


Brunson's contributions to the world of poker
In 1978, Brunson wrote "Super/System", which is considered by many to be the "poker bible". Detailing advanced poker strategies, this book changed the way the game was perceived and played. Brunson pioneered the idea that poker is a game of skill, not luck, and his book served to educate a new generation of players.
With his cowboy hat and commanding presence, Brunson was unmistakable in any poker room. Although he often appeared cool and calm at the card table, Brunson was known for his aggressiveness and his ability to read other players. He was one of the first to adopt an aggressive playing style, which allowed him to dominate the tables and win millions of dollars during his career.
Despite his fame and success, Brunson always remained humble. He was always willing to help younger and less experienced players, sharing his knowledge and experience with anyone he was willing to listen. One of Brunson's most famous quotes illustrates this spirit well: "Money is just a tool in poker. If you can scare a man, you can beat him."
Although Brunson officially retired from professional poker in 2018, his influence on the game has never waned. He continued to be a constant presence at the WSOP, where he was always greeted with great love and respect by players of all generations. He was a mentor to many of today's top poker players, who cite Brunson as a key influence on his own development.
Over the years, Brunson has also competed in numerous WPT events. His skill and charisma made him a favorite with spectators and players alike. One of his most notable achievements in the WPT was in the 2004-2005 season, when he won the Legends of Poker title, a WPT flagship event.
Additionally, the WPT honored Brunson by naming an event after him. The Doyle Brunson Five Diamond World Poker Classic, held at the Bellagio in Las Vegas, is one of the most prestigious events in the WPT. The tournament attracts many of the best poker players in the world and has been a fixture on the WPT calendar for many years.


Doyle Brunson: Husband, father, and poker legend
Despite his legendary status, Doyle never lost his love for the little things in life. He loved spending time with his wife Louise, to whom he was married for over 50 years, and his children. Despite the long hours he spent at the poker tables, he always found time for his family. The anecdote is known that, in the middle of a game that lasted days, Brunson got up from the table to attend a dance recital by his daughter. When asked why, he simply replied: "Poker will always be there. My daughter's recital won't."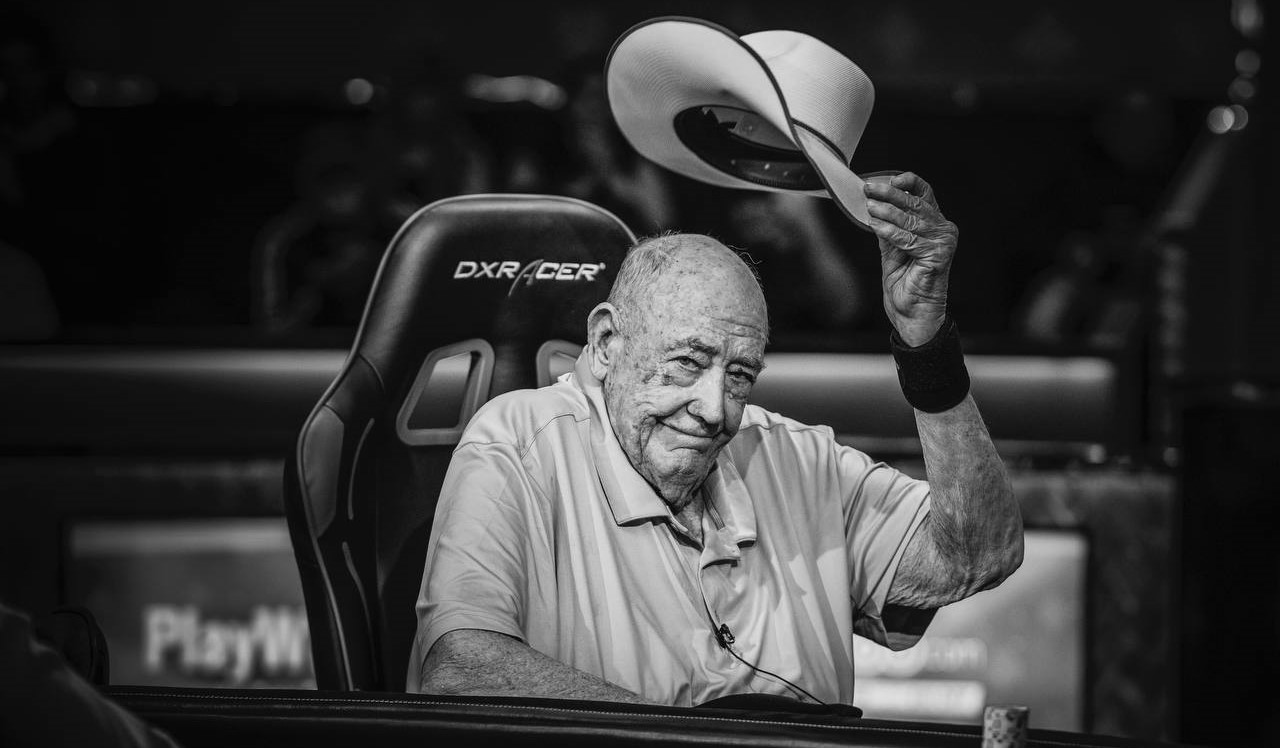 Throughout his career, Brunson has won 10 WSOP bracelets and more than $6 million in tournament prize money. But beyond the awards and titles, his greatest achievement was undoubtedly his impact on the game of poker. He was a true pioneer, a player who changed the way poker is played and perceived.
Doyle Brunson wasn't just a poker player, he was a legend, a man whose name will always be remembered as the cards are shuffled. His legacy extends far beyond the poker tables, in the thousands of lives he touched and the generations of players he inspired.
The departure of "Texas Dolly" leaves a void in the poker world, but his spirit and his legacy live on. As he once said: "Poker is a game played with people, not cards." Doyle Brunson didn't just play the game, he lived it. And in the process, he changed poker forever.
Rest in peace, Doyle Brunson. We will miss you, but your influence in poker will live on. Thank you for everything you gave us, both at the tables and outside of them.
Your legacy will live on with every hand played, every story told, and every player who aspires to become a legend.