THE THRILL OF ONLINE POKER
BEST ONLINE TOURNAMENTS
Endorphins are naturally occurring chemicals in the brain that are associated with feelings of pleasure, reward, and euphoria. While online poker itself does not directly release endorphins, the experience of playing poker, particularly when it involves competition, skill, and the potential for winning, can lead to an increase in endorphin levels indirectly.
The thrill of online poker stems from several factors that make it an exciting and engaging experience:
Competition: Online poker allows you to compete against a diverse and global player base. You'll encounter players of various skill levels, playing styles, and strategies. The challenge of outsmarting and outplaying opponents adds an element of excitement and unpredictability to the game.
Skill and Strategy: Poker is a game that combines skill, strategy, and decision-making. Online poker provides a platform to test and improve your skills. The ability to analyze hand histories, track statistics, and make strategic decisions in real-time adds depth to the game and rewards players who can think critically and adapt to different situations.
Multi-Table Play: Online poker platforms often allow players to play multiple tables simultaneously. This feature increases the pace of the game and presents more opportunities for action and decision-making. Managing multiple tables effectively requires focus, quick thinking, and the ability to make optimal decisions under time pressure, creating a thrilling and intense gaming experience.
Access to Various Game Formats: Online poker offers a wide range of game formats, including No-Limit Hold'em, Pot-Limit Omaha, Stud, and more. This variety allows players to explore different games, find their preferred format, and challenge themselves by learning new strategies and tactics. The availability of different game formats keeps the gameplay fresh and exciting.
Tournaments and Big Prize Pools: Online poker tournaments, such as the ones mentioned earlier, often feature substantial guaranteed prize pools. The opportunity to compete for significant amounts of money, sometimes in the millions, adds an extra level of excitement and motivation. The prospect of making a deep run in a tournament and reaching the final table is exhilarating and can lead to life-changing payouts.
Convenience and Accessibility: Online poker provides the convenience of playing from the comfort of your own home or wherever you have internet access. You can enjoy the thrill of the game without the need to travel to a physical casino or poker room. The accessibility of online poker allows players to jump into games quickly and easily, maximizing the amount of time spent playing and experiencing the excitement.
Social Interaction: While online poker lacks face-to-face interaction, it still fosters a sense of community and social engagement. Many online poker platforms offer chat features, allowing players to communicate with each other during games. Additionally, online poker communities and forums provide opportunities for players to discuss strategies, share experiences, and connect with fellow enthusiasts.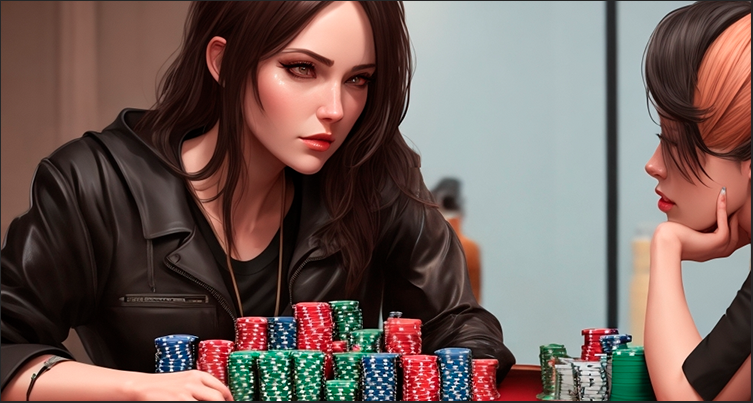 Overall, the thrill of online poker arises from the competitive nature of the game, the strategic decision-making involved, the potential for big wins, and the convenience and accessibility of playing from anywhere. It's an immersive and dynamic experience that keeps players engaged and coming back for more.
All of this can be enjoyed in the best online tournaments, which we at Habwin.com have compiled for you, the top online poker tournaments:
World Series of Poker Online (WSOP): The WSOP Online is the online version of the prestigious World Series of Poker, which is held annually in Las Vegas. The online edition features various events that mirror the traditional WSOP events, such as No-Limit Hold'em, Pot-Limit Omaha, and more. Players compete for WSOP bracelets and a chance to become a world champion.
PokerStars World Championship of Online Poker (WCOOP): WCOOP is a premier online poker series hosted by PokerStars. It typically takes place over several weeks and offers a wide range of tournaments with different buy-ins, game formats, and prize pools. It attracts a large player base and is known for its high level of competition.
Partypoker MILLIONS Online: MILLIONS Online is a highly anticipated online poker tournament series organized by partypoker. It features a massive guaranteed prize pool, often in the millions, and attracts top players from around the world. The tournament offers various events, including No-Limit Hold'em and other popular poker variants.

PokerStars Spring Championship of Online Poker (SCOOP): SCOOP is a highly regarded online tournament series hosted by PokerStars. It typically takes place in the spring and offers a wide range of tournaments with different buy-ins and game variations. The series attracts a large player pool, and the main events often feature substantial guaranteed prize pools
Partypoker Powerfest: Powerfest is a prominent online tournament series organized by partypoker. It showcases a diverse schedule of events with different buy-ins and game formats. The series caters to players of all skill levels and offers substantial guaranteed prize pools. It attracts both recreational and professional players.
GGPoker World Series of Poker (GGPoker WSOP): GGPoker has partnered with the World Series of Poker to offer an online version of the renowned tournament series. The GGPoker WSOP features bracelet events, where players compete for prestigious WSOP bracelets and substantial prize pools. It provides an opportunity for players worldwide to participate in the prestigious WSOP events.
PokerStars Sunday Million: The Sunday Million is a flagship weekly tournament held on PokerStars. It is known for its large guaranteed prize pool and attracts a massive player base. The tournament typically features No-Limit Hold'em and offers an opportunity for players to compete for significant payouts and the coveted Sunday Million title.
Partypoker KO Series: The KO Series on partypoker focuses on knockout tournaments. In addition to competing for the regular prize pool, players also earn bounties for eliminating opponents from the tournament. It adds an exciting dynamic to the gameplay and rewards aggressive play. The series includes tournaments with different buy-ins and guarantees, catering to players of varying bankrolls.
These tournaments offer players the opportunity to compete against a wide range of opponents, showcase their skills, and potentially win substantial prize money and prestigious titles. Each tournament has its unique characteristics and attracts players from around the world.