Exploring ipoker rake system
ipoker network includes over 21 poker rooms all over the world that share traffic amongst them according to legal restrictions of each country. Created in 1999, has been offering poker, casino and bets software for over 20 years. In terms of traffic has had its ups and downs, but it reached the top 3 in pokerscout some time ago, though different changes and a very hard concurrency have forced its drop of the top positions.
Since 2015, Ipoker changed its rake system and how rake was allocated to players and they set up a new system, called SBR or Source Revenue Based system o SBR. The SBR system has been quite controversial all over since its very beginnig. It should be pointed out that the system does not affect how poker rooms calculate the rake on the tables but how this rake is distributed between players or what rake has each player generated, according to the poker room.
At the moment most of the rooms or affiliates have a rewarding system that allocates X amount of rakeback to an X amount of rake generated. Therefore, the quantity of rake generated that a poker rooms assigne to a player becomes crutial for regular players.
So, what is the difference between the traditional rake system and the new Source Based System? In this article we will go down deep on rake concepts, how poker rooms calculate it and the main differences between the different systems:
Rake is the commission taken by a cardroom in poker cash game or tournament. Depending on the room, the game etc it can be between a 2-10%. Tournaments have a fixed rake specified in the entrance ticket, $320 + $30, for example.
Unlike casino games, in poker players bet against each other so the rake is the only way the house has to obtein benefits from the game.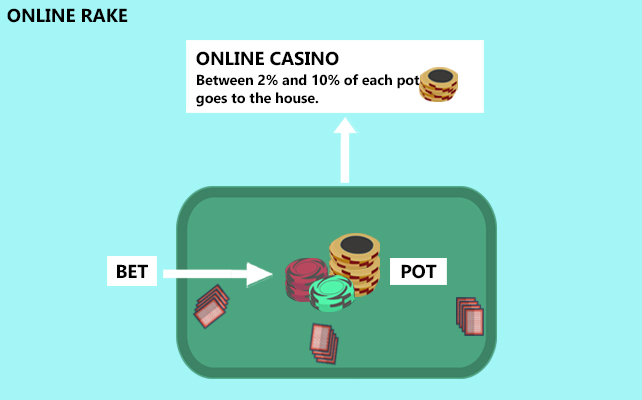 First of all it depends a lot of the tipe of rake. Poker rooms usually apply different a different rate depending whether it's a tournament, cash games, sit&go's etc. We can find estipulated the amount of rake the room applies surfing in the poker room web or FAQ section. The calculation of the rake of a given situation is quite easy. For instance, if we are talking about a 5% rake and the pot is $100, the house takes over $5. But, what about how much rake is it allocated to each player of the table? Rewards schemes are usually based on our generated rake, so, how can we calculate it? It is at this point, when things start getting a bit complicated because each player usually contributes to the pot with different amounts plus:
- the rake is not taken whenever some one wins the pot, but during the progression of each hand.
-The rake is conformed by different players.
-The pot does not belong to any player, it is a total independent entity that belong to every player who chipped in.
3-HOW POKER ROOMS ALLOCATE RAKE TO PLAYERS
Depending on the room and the network the calculation of the rake a player generate can change a lot. These are the more common ones:
If a player chips in a 20% of the pot, the house allocates a 20% of the pot in form of rake to this player.
For example: a player contributes with 20% of $100 and the rake applied is a 5%. The rake of the pot would be $5. A 20% of these $5 wold be considered rake of this player ($1).
Other rooms divide the total amount of rake between all the players of the table, regarless whether they contributed to the pot or not. In this case, in a table of 10 players and $5 rake, each players would generate $0,50 of rake.
In other rooms though, they take into account only the player who really chipped in the pot, but without considering the exact amount they contributed with. For example, in a table of 10 a rake of $5, where only 5 players contributed, the rake allocated to each of these players would be $5 between 5, equals $1 of rake to each of them.
The SBR or Source Base Revenue. This system is an Ipoker in-house system and relies on the premise that recreational, net-depositing players have been undervalued for far too long, while the online pros who generate plenty of rake but are cashing out instead of depositing have been valued much too highly. iPoker has determined that deposits are essential to ensure rake and fees can be generated out of the liquidity in the future.
This new system basically favours the net-depositing or recreational players. SBR system is relies on the premise of rewarding the rake depending on its source. This way, a player that lost a pot, will continue generating rake after the game is finished, when some one else uses the money he lost to bet against someone.
To calculate the SBR each player is assigned with a real and a virtual amount of rake. The SBR would be calculated based in these and it is known as Real Player Revenue or RPV. It is calculated adding the Old rake system and the new one, but not on an equal proportion.
This SBR Revenue is calculated based on the origin of this rake: it will not be the same if you deposited it that if you won it at the tables (in this case, the origin of the money will not be yours, so it will count quite less to the rake)
Check this examples for a better understanding:
Example 1: Rake generated comes from a deposit
Player A deposits $1,000 and loses them against player B generating and $100 of old rake. How does the house allocate this rake?
Player A would have $100 Old rake, as they come totally from his deposit.
BUT, when player B bets this $1,000 won from player A, this money will keep on generating rake for player A, as player A is the "source of the money". Money will generate rake for player A until:
-Player B has bet everything.
-Player B cashes it out.
The formula Old Rake + SBR will estbalish the amount of rake allocated to Player A/B and their Real Player Value (RPV). Therefore:
RPV= 50% of $100 + 50% of $1,000= $550
Example 2: Rake generated comes from another player's money
This time we'll analyze player B in Example 1. What rake will the house allocate to him?
The SBR will be $0, as this money, comes totally from another player's deposit, so it does not involve any new income for the poker room.
As in Example 1, the RPV= 50% of $100 + 50% of 0= $50
Example 3: The rake comes from different players
SBR allocates rake to players the money comes from, no matter if they are 5 or 20, with the same RPV formula than in last examples.
As you can imagine, this sytem becames quite complicated because players can cash the winnings out and make new deposits in order to try to make their winnings "count". Also, us PT4 or HM2 softwares that calculate your rake are not trustable anymore in these sites.
As we already said, rake systems can be complicated, and most of poker rooms tend to be quite reluctant to openly show how rake is calculated. Instead they have set up a revenue system based mainly in the so called player points.
Depending on the room and its player points system, the rake can be easily calculated or quite deliberately opaque. It even can depend on azar or gamification systems. For instance Partypoker has a very transparent system in which 1 point equals 1$ rake. On the other hand there is Pokerstars, and its reward chests, in which regular players usually end up loosing revenue in comparison with other rooms. In between these two are those networks who include an azar factor, like playing a wheel to determine what percentage of rakeback players will get at GGNetwork.
As you can figure out these changes in how poker rooms calculate rake do not affect poker rooms as much as they do to other rakeback schemes, like the ones of affiliate based websites. Usually, these sites offer a reward system to players based in the rake generated. If RPV (Real Player Value) decreases, the rakeback they can offer to its players consequently decreases too.
Despite this, Ipoker keeps being a very decent option for players since its welcome bonus and reload tend to be very decent and attract a big number of recreational players. We have good rakeback systems por Ipoker rooms, check here for best deals in town.