We often tend to talk about male figures in all kinds of sports and, although numerous advances are being made in terms of inclusion and equality, it is fair to say that female talent in sports and card games is often discriminated against, consciously or not.
Therefore, we wanted to delve into the world of women's poker and put the focus on those figures who have excelled in the recent history of poker to pay them the tribute they deserve in recognition of their skills and deeds on the table.
The best female poker players in history
These are some of the best female poker players in history:
Barbara Freer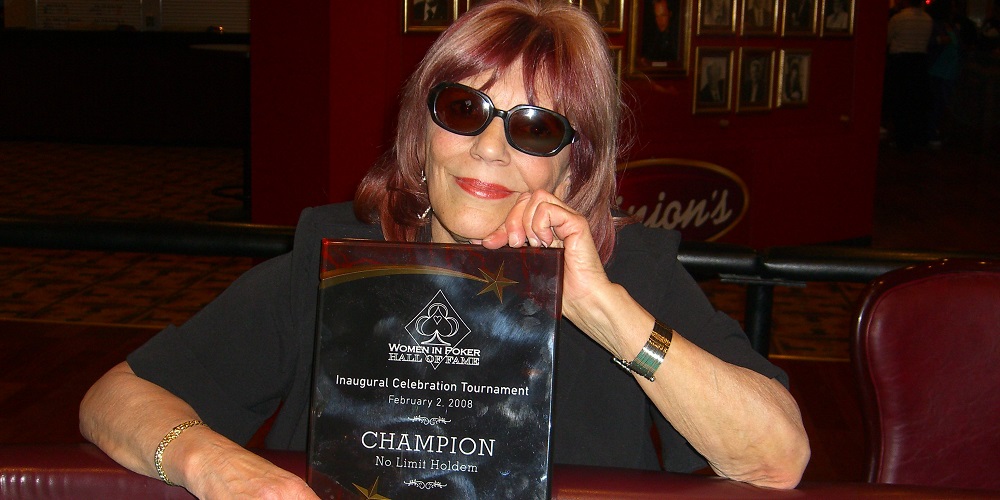 She was a pioneer in many things, but in the world of poker she left an indelible mark. She was the first woman to enter the world of professional poker. She won the WSOP in 1979, in the Ladies - Limit 7 Card Stud category.
The study made in 2008 yielded a figure of almost $40,000 in WSOP earnings alone, being one of the great players of her generation and the one who opened the door to female participation in poker in recent history.
Jennifer Harman




She is known as the Lady of the Ladies of poker. Her experience and experience make her one of the most prominent figures in poker, standing out both at cash tables and tournaments.
Soon she began to attract the attention of all the fans when she proved to feel much more comfortable in cash games, being considered one of the best players in the world in Texas Limit games.
It was not until 2015 when her name was inducted into the Poker Hall of Fame.
Maria Lampropoulos




She was one of the standout performers at the 2017 Party Poker Millions, and was the center of attention at the PokerStars Caribbean Adventure the following year. In both, Lampropolus triumphed, opting for a prize pool of more than $1 million in each of the competitions.
He excelled in Freeroll tournaments. Little by little she climbed the ladder to become one of the most beloved players in Latin America.
Leo Margets




Originally from Barcelona, Leo Margets has proven to be one of the best poker players. She has a great personality and a lot of charisma, which makes her a magnet at the tables. She has managed to get close to a million dollars in prizes, and we have been able to see her in some television formats of the Mediaset group.
In Spain she caused a sensation after her success in the 2009 World Series of Poker, when she placed 27th, which earned her the Last Woman Standing award.
Liv Boeree




She gained well-deserved fame after winning the EPT with the most players in history at the time (over 1,200 contenders), taking home a prize of €1,250,000 each.
She is also known for her experience as a model and presenter, but as a poker player she has managed to do her best. Her presence on television managed to catapult poker broadcasts in the United States to the most watched in her time slot.
Vanessa Selbst




Nationalized in Norway and currently in the United States, Selbst was known in Spain, where she began to stand out in several poker competitions. Today, she is the woman who has accumulated the most money in prizes, reaching 11 million dollars. She is one of the most recognized players by critics and the public, and despite her retirement, she is still one of the most popular players in the world.
Although she came to announce her retirement in 2018, it is true that she has managed to make a place for herself in some poker events, such as the WPT Borgata.
Vicky Coren




She has been highly laureate for her victories in two EPT, in 2006 and 2014, and has been an ambassador for a major poker room, also acting as a disseminator for her communication skills.
In 2016 she was inducted into the Poker Hall of Fame. In addition, she knew how to combine playing at a multitude of poker tables with her role as a writer and journalist, with experience in television, press and radio.
Fatima Moreira de Melo




If you followed the Beijing Olympics, her name probably rings a bell. The champion, who has also worked as a model, is an excellent poker player. She has accumulated more than half a million euros in prizes and it is common to find her in physical casinos and online poker rooms.
Of Argentinean origin, she has played and won some of the toughest Main Events, demonstrating enormous mental strength and a great ability to read the games properly. Here is a video where Fatima shows her naturalness and concentration during the games.
Annie Duke




Her figure is closely linked to that of Howard Lederer, whose trajectories have gone hand in hand on many occasions. Both have been ambassadors of poker in America and have rubbed shoulders with the great professional players of the country and the world.
Annie is also known for being a player with a strong presence on television channels, where she talks about poker and playing strategies, and it is common to associate her figure with the role of women in American poker.
Her victory in the 2004 Tournament of Champions that earned her a $2 million prize and was the boost her career as a poker player needed for her name to be among the best in history.
Annette Obrestad




One day before her 19th birthday, in 2007, Obrestad won the WSOP in London, emerging as the winner of the Main Event and winning a prize of more than one million pounds.
Her figure has been associated with the boost that the female target needed in poker, personifying the need for equity and breaking barriers in the comparisons between men and women.
Her trajectory is plagued with successes both in online poker and in physical games.
Most famous milestones of the best female poker players
The history of achievements of the best female poker players in the world includes victories in the WSOP, bracelets, wins in Main Events, millionaire prizes, victories in Freeroll games... nothing different from what can be found in the history of any poker champion.
One of the associated advantages that has achieved a greater projection of poker champions has been that it has allowed to break barriers between champions and champions. The high level demonstrated by all of them has allowed them to occupy the place they deserve among the great poker champions.
If we take a look at the total earnings of the best female poker players in recent history, the ranking would look as follows, with Vanessa Selbst, Kathy Liebert and Kristen Bicknell in the podium positions:
1° Vanessa Selbst US$11,851,382
2nd Kathy Liebert US$ 6,223,469
3° Kristen Bicknell US$5,188,968
4° Annie Duke US$4,270,548
5° Annette Obrestad US$ 3.942.232
6° Liv Boeree US$ 3.852.996
7° Maria Lampropoulos US$3,377,914
8° Vanessa Rousso US$ 3.554.327
9° Maria Ho US$3,271,535
10° Joanne Liu US$3,230,438