One of the basic elements of the game of poker is the chips. These chips, of different shapes and colors, have an assigned value and are used to measure bets during the game.
Although they are usually round chips, in higher stakes games, usually private or high-stakes games, rectangular chips the size of a playing card are used. These chips are used to wager large amounts of money and are only available to the public in some casinos in the United States, particularly in Las Vegas.
However, not all chips, round or rectangular, have the same value. How do you tell the difference between the value of one chip and another? What is the real value of poker chips?
What defines the value of chips in poker?
The main factor that serves to differentiate the value of poker chips is colour. Colour codes are essential for quick, real-time calculations during the game.
In most games the most commonly used colors are white, red, blue, green and black, which correspond to values of 1, 5, 10, 25 and 100 euros respectively. However, there is a much richer range of colors that allows for intermediate values upwards and downwards.
The full range of poker chip colors and values is as follows:
White

colour: 1 euro.

Yellow

colour: 2 euros.

Red

colour: 5 euros.

Blue

colour: 10 euros.

Grey

colour: 20 euros.

Green

colour: 25 euros.

Orange

colour: 50 euros.

Black

colour: 100 euros.

Pink

colour: 250 euros.

Purple

colour: 500 euros.

Maroon

colour: 1.000 euros.

Light blue

colour: 2.000 euros.

Brown

colour: 5,000 euros.
However, some casinos have their own colour code, such as the casinos in California in the United States, a state where there are no legal provisions on chip colors and which use a different scheme. It is therefore a good idea to check before exploring new casinos where you can play poker.
How the chip colour scheme influences the game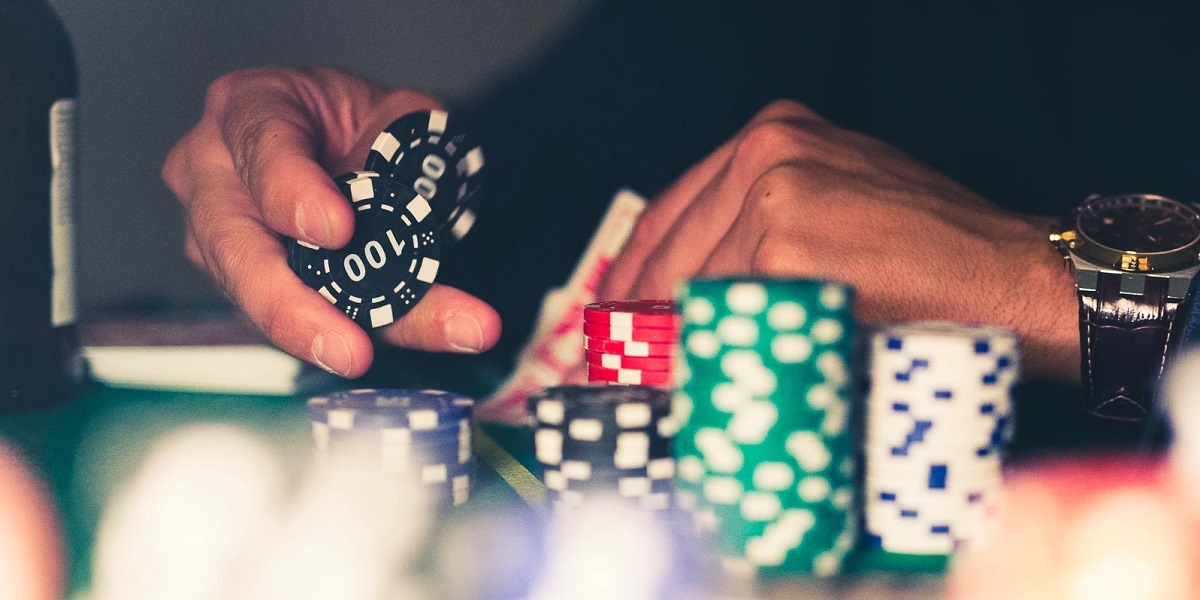 Although it may seem like a trivial aspect, it is actually very important to match the chip offer to balance the game. As a general rule, it is advisable to start with a reduced chip set-up to allow players to diversify their bets and to encourage an even distribution of rewards.
It is usual to wait until later in the game to introduce higher value chips to balance the game. The larger the stack, the greater the ability to shape stronger value bets. In any case, it is up to each casino to decide how to proceed at each stage of the game.
Therefore, we can affirm that having a good selection of poker chips is essential to balance the game and equalize the possibilities of each player to those of the rest in each phase of the game.
This has always been the case, and games such as poker have always made use of chips or markers to determine a bet. It is an effective mechanism that is still in use and allows the position and play of each participant to be determined, as well as quantifying their bet.
Chips are a vital element for the correct development not only of a poker game, but also of other casino games. This way of representing bets has been in use since the early 1800s, when the chips we know today became popular.
However, it was not until around 1880 that chips were made of bones, ivory or clay, materials used to create gambling pieces that could be easily copied and allowed some players to speculate with their money.
To prevent unauthorized copying of these chips, it was decided to delegate the task of manufacturing them to a third party, which today falls to companies outside the casinos themselves, so that each has its own anti-copying measures.
The chips are now customized and have unique aesthetic designs. This allows each casino to have its own chips, with a very similar layout, but with unique differences that can be studied by the staff of the venue.
The factors that influence the manufacture of the chips and allow casinos to differentiate their original chips from a copy are the material, weight, texture and colour, as well as the colour pattern, which is unique in each case and has very subtle singularities. This makes a token more difficult to counterfeit than paper money.
However, with today's technological advances, some casinos have even opted for the implementation of chips in their chips that allow them to be tracked and prevent the counterfeiting, however sophisticated, of any of them. In this way, they make it completely impossible for a counterfeit chip to get past the casino's filter.