Going all-in, bluffing, preferring Pot-Limit to No Limit or being the fish of the table are just some of the expressions you have probably become familiar with during your poker games.
This fantastic card game is enormously rich. Not only in terms of strategy, but also in terms of vocabulary. Today we introduce a new term to your poker glossary by explaining what is raise in poker, a move you are fully accustomed to, and have witnessed in thrilling scenes of Hollywood movies.
What is raise in poker?
Perhaps you have never heard the expression raise in poker. However, you will see how, after this explanation, you will never forget it again.
Raising is done in response to another player's bet. Instead of calling, you have decided to up the stakes and demand your opponent to do the same. On the other hand, if you reraise, it means that, after a player has raised, the bet is increased again by adding an extra bet to the pot.
At the end, you want your opponent to put mor money into the pot or, maybe, you want him to fold. In this sense, there's plenty of times where you raise in order to scare others out of the pot.
As you can imagine, raise in poker is one more strategy in this card game that can be a double-edged sword. You can either cow your opponents and force them to fold, or they might react by calling or even raising your bet.
Just as you have to know when to bluff, there are also favorable moments when you can make an appropriate raise. For example, to raise during preflop would not be the most favorable option since many players want to see the flop.
As for the cards you have in your hand, they are also decisive when it comes to assessing whether or not to make a raise poker.
When is it better to raise in a poker game?
Now that we know what it is to raise in poker - to increase a previous bet already made by another player - it is also interesting to know that, if you make a preflop fold, it would correspond to raising the bet of the big blind.
Having clarified the concepts, we reveal when would be the best moment or moments of the game in which raising can be a very beneficial strategy. It is worth remembering that, in poker, there are four betting rounds:
Preflop

: betting round before the community cards make their appearance.

Flop

: betting round that takes place when the community cards are revealed.

Turn

: betting round that takes place when the fourth card is revealed.

River

: last betting round. All cards are turned face up.
Raising on preflop
The objective of preflop raising, that is, during the first round, is to prevent other players from continuing their hand. You have to start from a strong hand.
However, as we pointed out at the beginning, it is not the most appropriate time to raise, since, seeing the flop, it is something very coveted by many players. However, if you want to know if it is a good time to fold, you will have to take into account your position at the table, as well as the moves of the other players.
Binding on the flop
The middle cards have been revealed. It's a good time to screen players with a good raise, as long as your hand goes with you.
Raising on the turn and river
The strategy becomes more complicated during the post-flop. You will have to take into account how many players are at the table, since it is not the same to face an opponent face-to-face (head-up) as it is to have several players competing for the pot.
Packing in these phases is appropriate if you have a strong hand, such as a straight or flush, or a draw of either. Making your players think you have a straight is a good way to scare them. And you can do that by making a poker flush.
4 movies about poker in which poker has been envied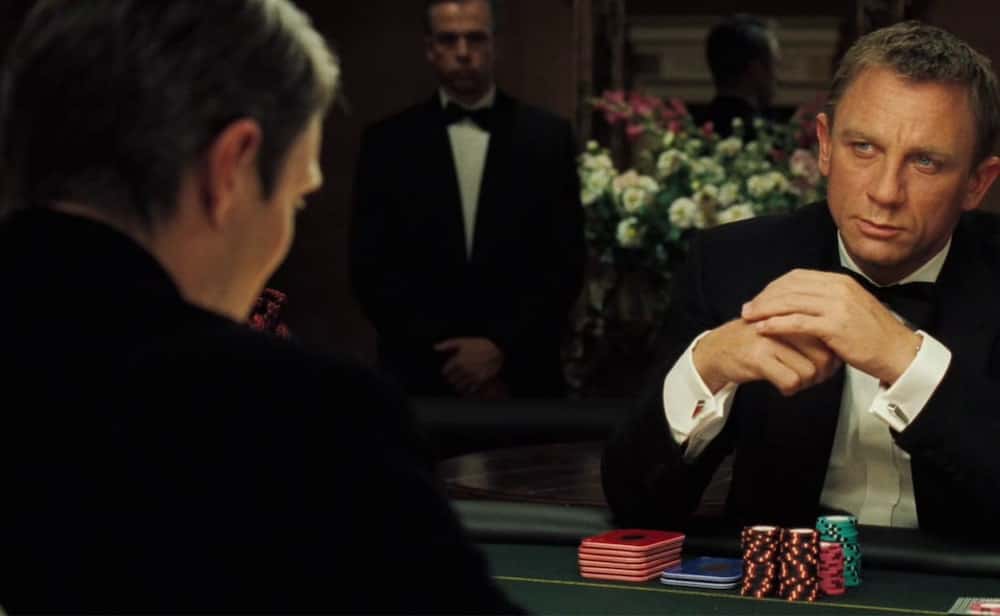 Cinema has extolled poker as one of the most exciting games you can play. From Mr. Bond, starring Daniel Craig, to the characters of Robert Redford or Paul Newman in the mythical movie The Sting, a poker scene in the movies is always synonymous with strong emotions.
One of the most common strategies and moves we have witnessed from the cinema seats, has been the one we are dealing with today: raising in poker. Which are these movies? Take note!
Casino Royale
A poker tournament is the perfect setting for Mr. Bond in his quest to catch the mastermind of a criminal organization: Le Chiffre.
The two characters go head-to-head on the green table and fight for a huge pot. A scene full of emotion and tension in which raise becomes a key strategy.

Deal
Tommy Vinson, a character played by none other than Burt Reynolds, is a retired veteran poker player who passes on all his tricks to a young promising card player.
During their participations in the World Poker Tour circuit, they will show off their mastery of raising in poker.
21 Blackjack
Kevin Spacey is one of the great attractions of this film. The actor was at one of the high points of his career when he played Mickey Rosa, a math teacher and leader of the Blackjack group.
Along with the strategy of playing poker, one of the strong points of the game is how the protagonists learn to count cards by playing Blackjack. Thanks to their strategies, they manage to win thousands of dollars.
The Natchez gambler
We travel back to the 1950s to talk about a film whose plot takes place in the south of the United States.
A poker player hatches a plan to hunt down the three men who killed his father, also a gambler. This is a classic poker movie not to be missed.