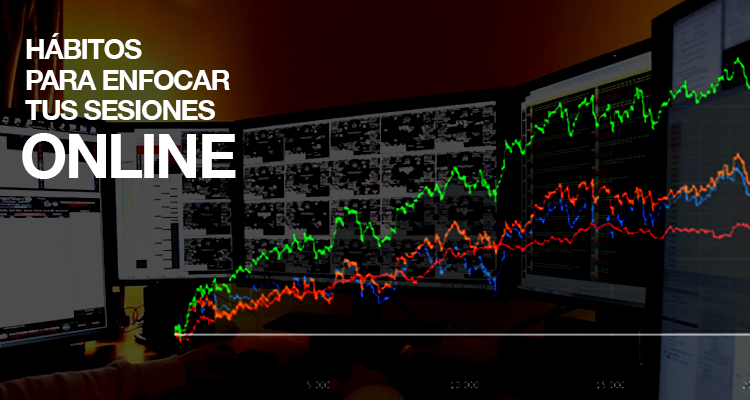 Plan your online sessions
Many times we start an online poker session and we are not in the best condition, we just decide to play. Sometimes because we want to and sometimes just because we are bored or we are obligated to.
The online poker is like a sport, you can practice at any time, but you are not always in your best physical/mental moment. You only need to remember the last football match you played with your friends, was the best game of your life? Or was there many external factors that made you not being the best? physical condition, worries, tiredness...?
Without any doubt, have some good habits during your poker games will help to improve and to achieve the expected goals during your poker games.
That's why we have created this guide to provide a list of habits that will help you to be better in your online poker session.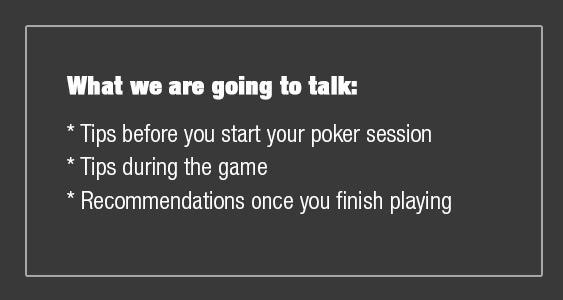 We will make a summary of the most important points, although they look like very basic sometimes we need to remember them.
Before to play:

- Free yourself of tasks
The first thing you have to do is have the agenda completely available, not postpone your tasks after the session because you know when you start but often not when you are going to finish the session, especially in case of playing tournaments.
How many times we have been site out at a table because we left something to be done? Eat, walk with your dog, clean the kitchen and when all is done, you have released your agenda but also also you released your mind. You will face your session much more positive and relaxed.
You will be in your poker session in a much more positive and relaxed way. Stress is a condition that causes memory problems, impaired mood and lack of concentration.
- Prepare your space
Yes, on the couch with your laptop, snacks in one hand and a drink on the coffee table is where you are going certainly to be more comfortable, but it is not ideal.
When you are spending long periods of time in front of the computer all around you is fundamental, in fact, your performance can improve by 15% if you are in a pleasant atmosphere.
Clear the computer table, have a fresh room, put on some music and take a comfortable chair. In a friendly atmosphere we will deal better stress or the tilt caused for some different circumstances at the tables.
Once you have a clear mind and computer table, we will have to decide on which room or rooms we are going to play.
Depending on the time in which we play, some poker rooms are better than others, because of traffic, promotions, tables or schedules of tournaments available. Check out poker tournaments, freerolls and cash tables to get more interesting games to play.
- Go over the previous day errors
It is always advisable to spend time to study, half an hour or an hour before you play, review the most interesting hands you've played the previous session, take a look on the errors and correct them, there are software like Holdem Manager or Poker Tracker to do that.
Review concepts and correct errors could help you not to make them again during the next few hours and reinforce what has been learned so that you can focus on improving your game.
- Schedule your session
Set yourself a schedule of play and program your session including breaks.
In the case of playing cash games, it is very simple because you can close the tables and take a break at any time, then you can use it to take a walk, take some drink or food.
When you play poker tournaments is more difficult. If you are an experienced player you can calculate how long it can last a tournament depending on the structure and registered participants.
The most important thing is to profit the 5 minutes breaks that online poker tournaments offer or if you have been removed use that free time until your next agenda.
During the game:
- Consider the position in which you are playing
It's not the same to climb A9 suited under UTG than doing that from the dealer, always keep in mind the position you have in your hand before doing an action, we must know how many players have entered in the hand, players who have still to chat and even the number of players we have on the table.
Many times we automate our actions just by the value of the hand without attention to the position where we are, own stack size, stack size rival, previous tournaments... Everything should influence to take a decision.
- Do not put blind if it is not your turn
I know that we often want to play as soon as possible, and although it's not your turn, you will put half or a blind to be dealt. Be patient and wait your turn because eventually you will be overpaying.
Before playing tournaments join one that has extended logging and the blinds are already very high, just look it before you sign up in a tournament late registration!
- Free yourself from distractions
Neither whatsapp, or Facebook, or watch the cashier or anything that makes some distraction from the computer. Many times, especially in times where we do not have any action, we look at whatsapp, the mail, our favorite sports newspaper...
Use those most boring moments to look through the statistics of your rivals, to observe the movements of the hands they are playing or to locate possible weak rivals who can win the money with. If you've decided to play it is because you were prepared both physically and mentally, you might miss game details that could then make you take advantage.
- Observation
Look at the other players. Although you can not see the faces in online poker (except at tables with 888 poker webcam), you could detect certain patterns of some players, such as thinking much time when he takes winning hands and he wants to make us believe that he has nothing (it is done by much more people than you can imagine)
- Do not make decisions with your heart
Poker is a game of statistics, analysis and observation, even if you like J9 of diamonds, a KK2 flop is not the best moment to re-raise a continuation bet. Be aware and make decisions with the head.
- Be patient
If you don't have the better card, be patient. There are many moments in the game where we have anything and we feel that we are losing money and opportunities, it's very important to remain calm and to know folding to minimize the losses.
A good poker player knows to maximize profits when it goes ahead, and minimize losses when he is going to lose.
- Be persistent
If you're playing correctly do not change even if you earn or loose, only by analyzing your game you will know if you are a winner or loser, correct mistakes and adapt new strategies game, but a large sample of hands is needed to determine if you are doing things in a correct way.
If you vary your game every day at the end you will have the feeling that you're doing it all wrong or it will be more difficult to locate your mistakes.
- Take breaks
Don't stress! If you want to make a 6-hour session, it's better to play 3 hours, rest and play 3 hours more. Turn around, take a drink or eat something and so you can afford the time it rests more relaxed and refreshed.
- Know when to quit
If you see that things are really bad, you're tired or you have something to do, it is better to close the session at once and to end the day, there is no use to stay to recover 10 € after 8 hours playing to not log out with negative numbers.
Remember expecting to be in a position of Dealer before closing the table to make the most profit of blinds that you paid on your turn.
- Don't look at your profit/loss
I know it's difficult and you have curiosity of whether the session went better/worse than expected, but there is no point looking at the results in a short term.
The results of your game are measured in hundreds of thousands of hands, obviously we need to know the bankroll we have, but if it has been a bad session, watching the cashier will only make us feel anxiety.
After the game:

- Disconnect
When people finish the job they disconnect, don't you? Go out for a walk, take some beers with friends or perform some task that clears your mind.
- Don't go sleep just after the play
Although your body has stopped, your mind is still running. It is important to leave a period of time between the moment that you finish playing poker and the moment when you go to bed because your mind will remain active for a while.
These are HabWin recommendations that we launched to help every poker player to achieve better results in the tables. With this guidelines you will have a better approach for your online poker sessions. Once you're all set up you only need to choose the more convenient poker room for you, check out for the best deals.
Let us know with your comment on Facebook or Twitter.