It is well known by online poker lovers that the fame of PokerStars is more than justified. The room, created more than 20 years ago by the Scheinberg brothers, has all the ingredients to be considered one of the best in the industry.
Among its many benefits and advantages, the room offers varied and accessible withdrawal and deposit methods for practically any user. In addition, PokerStars pays special attention to security when it comes to any process related to its players' funds.
If you are here, you probably already know all the virtues of this room, but maybe you are wondering about how to withdraw PokerStars funds, if there is some kind of minimum deposit or what are the methods for making transactions. We provide answers to these and other questions below. And remember that you can read much more about this poker room here: https://www.habwin.com/en/poker-room/pokerstars-com
How to deposit at Pokerstars?
If you are wondering how to deposit at PokerStars it is really simple. We assume that both the deposit options and the PokerStars withdrawal methods vary depending on the country.
You can easily check which are the deposit options for the country you are in from the site of the room. Before making a PokerStars minimum deposit, the first step, if you have not already done so, is to download the software on the device you are using, either computer or mobile.
To make a deposit, log in to your account and select the "Cashier" option. Next, select your preferred payment option and enter the amount you wish to deposit. Finally, select "Deposit". If you are making a deposit for the first time, you will need to fill out a form.
Remember that you can also set your own limits by determining a maximum budget on your deposits. Managing your bankroll is crucial from the start, so PokerStars encourages its players to set their own weekly bankroll limits, which cannot exceed the agreed amount.
Pokestars deposit methods
Among the deposit methods you will find available, you can choose between the most common ones, such as bank cards, the most secure e-wallets, such as Neteller, or prepaid cards such as Neosurf.
Here is the list of available deposit methods:
If you don't know which of the PokerStars deposit methods to choose, it all depends on what is most important to you. If you prioritize simplicity of use, credit and debit cards as a payment method are your best option. In case you prefer faster payment processing, e-wallets would be the most suitable.
As for the PokerStars minimum deposit, all payment methods supported by PokerStars (bank transfers, prepaid cards, e-cards and e-wallets) require a minimum deposit of €10.
What are PokerStars Quick Deposits?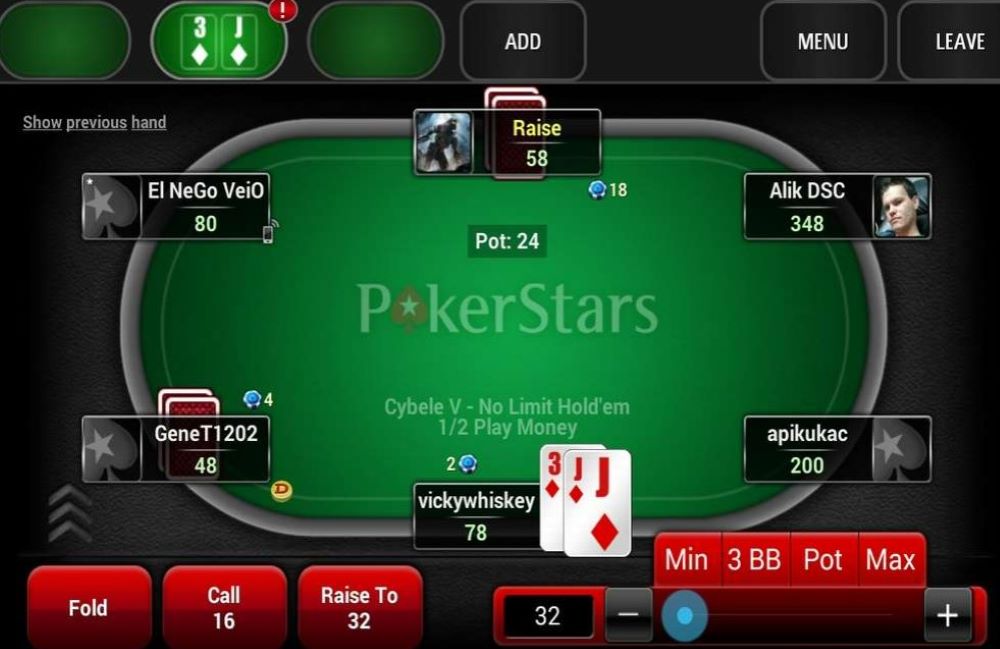 Before we dive into how to withdraw PokerStars funds, it is convenient to explain a feature of the room that allows you to deposit money easily and without leaving the table.
We are talking about PokerStars Quick Deposits, a functionality that speeds up this transaction and is also compatible with some of the most popular deposit methods, including: Neteller, MasterCard or Visa.
Simply activate this option by clicking on the "Quick Deposit" button when you are playing a real money game. When you click on the button, a pop-up window will appear where you can complete the deposit details.
Once the transaction details have been confirmed, click "Accept". The transaction will be sent for processing and once completed, you will have your funds available in your "Stars" account.
How to withdraw money at Pokerstars?
Learning how to withdraw money at PokerStars is just as easy as depositing at the room. The first steps are identical to how to deposit at PokerStars.
In your account, go to "Cashier" and select the "Withdraw Funds" option. Next, choose the payment method you want to use and set the amount you want to cash out. Withdrawing PokerStars money is as easy as following these steps.
An important thing to know when figuring out how to withdraw money at PokerStars is how long you have to wait to receive the money you have requested. It is a minimum period of 24-48 hours from your last deposit to be able to withdraw your funds.
However, the period of time that elapses between the moment you request the withdrawal until you get the money varies depending on the payment method you choose. For example: in the case of requesting a withdrawal of funds via credit or debit card, which includes Visa and also EntroPay, it usually takes at least 3 days to receive the money.
On the other hand, e-wallets are one of the fastest PokerStars withdrawal methods. In just one day you will receive the money you have requested. In this case, you can use any of the available e-wallets, such as Skrill, Paypal, Neteller or Muchbetter.
In case you opt for bank transfers, one of the most common withdrawal methods, the wait usually takes between 3 and 5 days until the payment process is completed.
Is it safe to deposit and withdraw money at PokerStars?
Transaction security is key for an online poker room and also for its players. Rooms like PokerStars take great care in creating a secure and reliable framework for their users to make deposits and withdrawals with complete peace of mind.
At PokerStars, players' account balances are kept in separate accounts, so they are not used for operating expenses. These accounts are managed by a European banking institution.
Thus, PokerStars is synonymous with security and reliability when it comes to funds transactions.