Pokerstars' Road to PSPC 2022 stop in Spain has been interrupted by a declared strike at Casino Cirsa Valencia.
Although it seems that the situation was foreseeable by the Casino, it has caught quite a few by surprise, including players who had traveled to the capital and had already booked their accommodation, as well as the event organizers of Pokerstars who posted this on Twitter: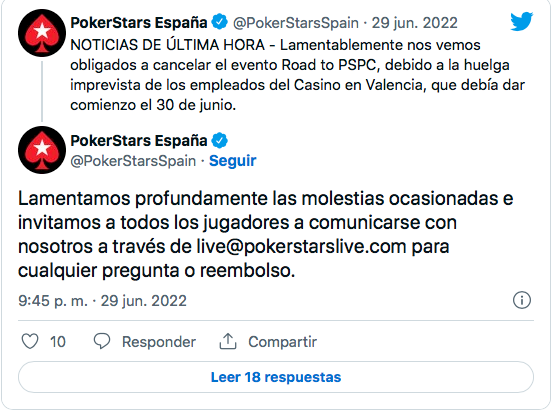 During these days, a Platinum Pass package valued at $30,000 would have been distributed, which includes the $25,000 buy-in, six nights in a luxury hotel in the Bahamas for the player and a companion, airport transfers, exclusive PSPC merchandising , $1,900 for expenses and a multitude of experiences. Due to the circumstances, it cannot be delivered until the next event that will take place in Seville between August 31st and September 4th.
This is the statement issued by Casino Cirsa in this regard:
Con motivo de la huelga convocada del jueves 30 de junio al sábado 2 de julio, los servicios del Casino pueden verse afectados de forma intermitente.
Recuperaremos plena actividad la medianoche del sábado al domingo.
Agradecemos su compresión. Disculpen las molestias.
This is the complete scheduled schedule for Road to PSPC 2022:
• Road to PSPC Liechtenstein 400 CHF buy-in with CHF 200,000 GTD, June 2 – 6th
• Road to PSPC Gujan Mestras €400 buy-in, June 13 – 19th
• Road to PSPC Valencia €400 buy-in, June 29 - July 3rd
• Road to PSPC San Marino €400 buy-in with €100,000 GTD, July 6-11th
• Road to PSPC BSOP Winter Millions: Sao Paulo R$800 buy-in, July 13-15th
• Road to PSPC Dublin €400 buy-in, July 14 – 18th
• Road to PSPC Hamburg €400 buy-in, August 31- September 4th
• Road to PSPC Hamburg €400 buy-in, August 31- September 4th
• Road to PSPC Seville €400 buy-in, August 31- September 4th
• Road to PSPC La Grande Motte €400 buy-in, September 13-18th
• Road to PSPC Manila PHP 22,000 buy-in, September 19 – 25th
• Road to PSPC Thessaloniki €400 buy-in, September 22 – 25th
• Road to PSPC Namur €400 buy-in, October 24-30th
• Road to PSPC Nova Gorica €400 buy-in with €100,000 GTD, October 6-10th