DAILY LEADERBOARD - Rush Cash

Rush & Cash Daily 40K$
2BET4WIN brings daily prizes through Rush & Cash with GTD jackpots of 40,000$ through the leaderboard. Just play Rush & Cash and accumulate 10 points with your hands and another 10 if you play in cash.
*Hasta un máximo de 10 puntos por mano
Hold'em Prize Overview
Stakes

Daily Prize

Up To

$1/$2

$6,950

25

$0.50/$1

$5,400

40

$0.25/$0.50

$3,000

40

$0.10/$0.25

$2,423.75

100

$0.05/$0.10

$1,402.50

100

$0.02/$0.05

$1,087.50

200

$0.01/$0.02

$512

200

$20,776
Omaha Prize Overview
Stakes

Daily Prize

Up To

$1/$2

$7,000

15

$0.50/$1

$4,175

20

$0.25/$0.50

$3,712.50

30

$0.10/$0.25

$2,435

50

$0.05/$0.10

$1,387.50

50

$0.02/$0.05

$929.50

50

$0.01/$0.02

$453.25

50

$20,093

In addition, Rush & Cash raked hands generate Fish Buffet points, which will help increase your rewards. That is, by just playing you will access prizes, Fish Buffet rewards and cash. You can accumulate up to 20 points.
What if you want more?
In that case Happy Hours are for you. At Happy Hour you will receive double points, and also the maximum number of points you can get is 20 points.
*Happy hour runs from 22:00:00 ~ 24:00:00 (Pacific Time)

Up to 60% cashback at the new Fish Buffet!
Climb to higher levels and spin the wheel for up to 60% cashback!
What is Fish Buffet?
Fish Buffet is a tier-based rewards program where you can unlock larger and larger cash prizes as you progress to higher tiers. To participate? Just play to start earning Fish Buffet Points (FP) You can get up to 60% cashback!
Level structure in the Fish Buffet:
- 7 different statuses (plankton, shrimp, goldfish, crab, octopus, whale, shark, VIP)
- 24 different levels
- Each level has different FP and time limit requirements
What happens if I don't get the requested FP in the corresponding period? If the required FP is not met within the time limit, then you will be downgraded to the previous level, your accumulated FP will expire and you will receive a refund of 10% of the expired FP amount.
As a novelty, 2bet4win offers us the possibility of using lower ranges or black ranks to receive a weekly refund.
What are the BLAck RANKS? With this system you will receive rewards every week at a fixed rate, no more spins or time limits.
You will be able to move back and forth between the fish rows and the black rows. Black Ranks last for one year and require the accumulation of a specific number of Fish Buffet Points for renewal.
Weekly Fixed Cashback: Every Monday, you will receive a reward for the FP you have accumulated as a blak rank during the previous week.
For renewal:
You can switch to black rank at any time from a lower level / rank:
- Octopus, crab, shrimp can change to Black Fish.
- Whales can change a black octopus.
- All sharks can change a black whale.
* You must remove Diamond Shark to become Black Shark.
In the same way, you can return to Fiss Buffet whenever you want:
- Black fish will start at Camarones Bronce.
- Black Octopus will start at Bronze Whale.
- Black Whale will start in Bronze Shark.
For more details on FISH BUFFET levels, see the table below:

Prize structure:
- Unlock a level for a chance to spin the wheel for a cash prize
- You can start the roulette by spinning immediately or open it later in 'My bonuses'
- The rewards will be credited to your account after the spin lands on a cash prize
- Unopened roulette spins will be automatically opened in 90 days and credited to your account
Take a look at the rewards per tier below:
Shark
Whale
Octopus
Crab
Goldfish
Shrimp
Fish
Plankton
Create your account now and take advantage of Habwin benefits:

Rewards System - Honeymoon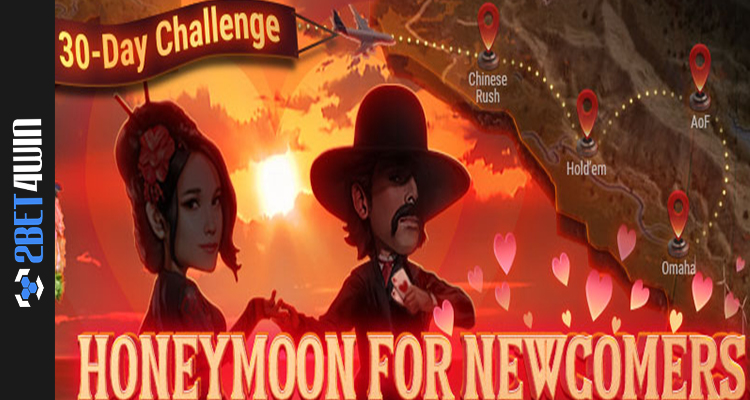 Enjoy exclusive rewards for 30 days
If you are in love with 2bet4win, you cannot miss the Honeymoon that the Room has prepared to strengthen your relationship during your first 30 days. You just have to complete a series of missions along your itinerary and you will receive instant rewards of up to 300$!
| Successful Missions | Rewards |
| --- | --- |
| 3 | 1 Ticket to Omaholic $1 |
| 5 | $2.50 |
| 7 | 1 Ticket to T$ Builder $4 |
| 15 | T$12.50 |
| 20 | $20.00 |
| 25 | T$110 |
| 30 | $150 |
But watch out! Access your honeymoon during the first 3 days from your first login or you will have lost the opportunity to win exclusive rewards!
The 2bet4win Honeymoon promotion is limited to accounts created after 00:00 on January 1th, 2019 (UTC + 0).
Also note that you must use at least one hole card for Hold'em and AoF Hold'em missions and that certain missions require finish a tournament before the mission is complete.
Example: If your mission is to play a Bounty Hunters tournament, the mission will only be completed when the tournament is completely over.
The missions will be based on the UTC time zone. A day starts at 00:00 and ends at 23:59 (UTC + 0) and the tickets you win along the way will be valid for one week.