WELCOME BONUS - 100% Up to 100€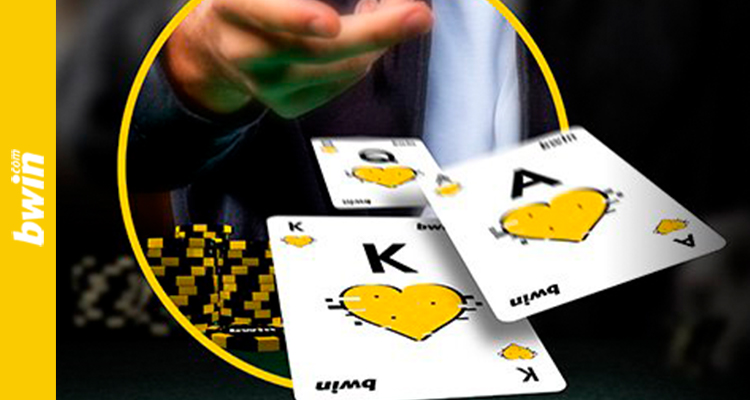 ENJOY YOUR WELCOME BONUS FOR FIRST DEPOSITORS
Bwin launches its 100% Welcome Bonus up to 100€ for first depositors. To enjoy it you must meet some requirements such as making a minimum deposit of 10€ during the 30 days following the creation of your account which will be released in 10 times.
How does it work:
1. Open your account.
2. Make your first deposit of at least 10€.
3. Receive a 100% poker bonus on your first deposit up to a maximum of 100€.
4. The bonus will launch in 10 equal increments. Each increase will be immediately credited to your balance after you have accumulated 8 times that amount in points.
Check here all the terms and conditions.

Get rewards with Bwin rewards
Loyalty at Bwin is rewarded in a big way with the Rewards program. You only have to get a minimum of 10 points playing poker. In the rewards program, 1 point corresponds to every $ 1 of rake you generate.
When you get the 10 points, you will get the cash rakeback every Monday according to the following table:
Points
Rakeback payment
% Rake
10
$1
10%
25
$5
20%
50
$10.00
75
$15.00
100
$20.00
150
$37.50
25%
200
$50.00
300
$75.00
350
$87.50
400
$100.00
450
$112.50
500
$125.00
600
$180.00
30%
700
$210.00
800
$240.00
900
$270.00
1000
$300.00
Thereafter 40% for every 200 points earned

RAKE RACE - SNG Leaderboards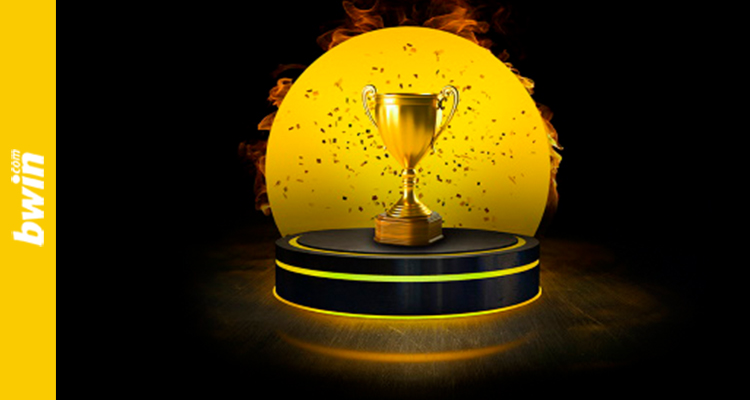 Do you like to play fast in Sit & Go?
Bwin has prepared the tables for all those players who are looking for more excitement at any time of the day. The Room distributes for them $ 7,250 per week in its four classifications where you must accumulate the necessary points to be among the best. Remember that to participate you have to earn your points in SNG tournaments, since "Heads Up SNG" and "Spins" are not included in this promotion. The points of the classification are calculated according to the formula: Points of the classification = 10 * [√player / √position].
Each leaderboard is for a different buy-in level:
$1.00 – $9.99 (Low)

$10.00 – $49.99 (Medium)

$50.00 – $199.99 (High)

$200.00 – $1,000 (Highroller)As you already know, at Habwin we always offer you MORE, a 10% monthly rakeback, with no minimum rake, free on your account so that you can spend what you want.

RAKE RACE - SPINS Leaderboards

Take part on the 12,500$ Leaderboards
Play at the Spins tables and enjoy 1,000$ in cash! How? Simply play at Bwin Spins tables to move up the prize ranking on the room leaderboards that you can access for as little as 0.25$. There are five leaderboards: Micro, Small, Low, Medium, and High. You can win from cash prizes to tournament tickets.
The Room delivers up to 12,500$ in guaranteed prizes across all five leaderboards and you can be one of the lucky ones to reach the top! Leaderboards run from 00:00 CEST to 23.59 CEST.

RAKE RACE - DAILY RANKINGS
36,000$ in Bwin's 16 daily rankings
Reach the top of the Bwin leaderboard to win a share of 36,000$ in the 16 daily Hold'em & PLO rankings offered by the Room.
To participate you must play with the specific buy-ins to obtain points in the respective rankings: 1 #rewards point = 1 ranking point. Just earn points at regular cash games and fastforward tables(Short Deck and Fixed Limit Hold'em cash games not included) for a chance to win a cash prize (points earned during Heads Up games are not included Cash). Classifications will be available every day between 00:00 CEST and 23:59 CEST.
The PLO Rankings include:
Pot Limit Omaha cash games and fastforward
Games in Cash Pot Limit Omaha Hi / Lo
Hold'em Rankings include:
No Limit Hold'em cash games and fastforward
Great prizes:
There are 16 rankings in total, 8 Hold'em and 8 PLO, with the following levels of buy-ins:
| Blinds | BuyI-ns | Prize |
| --- | --- | --- |
| $2,50/$5 | $250-$500 | $5.650 |
| $1/$2 | $100-$200 | $3.900 |
| $0,50/$1 | $50-$100 | $3.000 |
| $0,25/$0,50 | $25-$50 | $2.150 |
| $0,10/$0,25 | $12,50-$25 | $1.753 |
| $0,05/$0,10 | $5-$10 | $900 |
| $0,02/$0,05 | $2,50-$5 | $500 |
| $0,01/$0,02 | $1-$2 | $250 |