WELCOME BONUS GGPOKER UP TO 600$ IN DEPOSIT
If you are considering entering the exciting world of online poker, GGPoker has something very special for you. With their welcome offer, they give you two irresistible options: either you get $100 in rewards or a 100% bonus on your deposit up to $600.
Interesting, isn't it?
CHOOSE BETWEEN:
100% Deposit Bonus up to $600: If you prefer to play it safe, you can opt for a 100% bonus on your deposit, up to a maximum of $600. This bonus is released in real cash as you play. For every $5 you pay in rake or tournament fees, $1 of your bonus is unlocked. And the best part is that you have 90 days to release the entire bonus.
OR
Up to $100 in Rewards: If you choose this option, you will receive $52.50 in free tickets for the first six days after your deposit. But that's not all, if you play at the All-In or Fold tables during those six days, you can earn up to $47.50 extra. If you meet the daily hand goals, you'll earn up to $37.50 in cash game dollars (C$). And if you reach all your goals during the six days, another $10 in C$ will be waiting for you.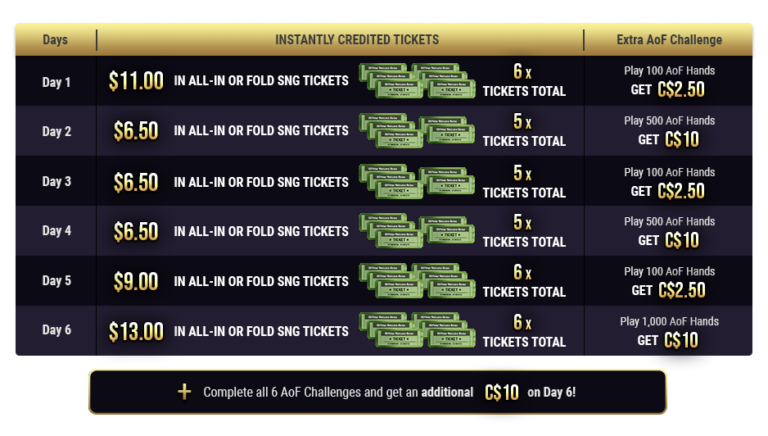 How to Claim Your Bonus
Claiming your bonus is a breeze. If you choose the $100 in rewards, you will receive your first batch of tickets instantly. If you opt for the 100% bonus, your bonus balance will be updated automatically. Plus, you have 60 days from your first deposit to make additional deposits and claim the full bonus.

With these two attractive options, GGPoker makes sure that your start in the world of online poker is a success. Whether you like instant rewards or prefer a bonus that releases gradually, there's something for you. So what are you waiting for to dive into the action?
Are you up for trying your luck at GGPoker?