UNLEASH YOUR INNER POKER PRO WITH TIGERGAMING'S PINEAPPLE OPEN FACE CHINESE POKER!
Are you tired of the same old Texas Hold'em and Omaha games???
Craving a fresh, adrenaline-pumping poker experience? Look no further! TigerGaming introduces Pineapple Open Face Chinese Poker (OFC), a riveting variant that promises to redefine your poker journey. With Jackpot Sit & Go versions and a unique scoring system, this game is a must-try for every poker fan.
What is Pineapple OFC?
Pineapple OFC is an electrifying twist on classic Chinese Poker. The game challenges you to create a 13-card hand divided into three rows: a top trio, a middle set of five, and a bottom collection of five cards. The goal? To accumulate points based on a scoring system that mirrors the hand hierarchy in Texas Hold'em and Omaha.
How Does It Differ from Standard OFC?
While both games start with an initial deal of five cards, Pineapple OFC spices things up by dealing three cards in subsequent rounds, allowing you to discard one. This adds an extra layer of strategy and excitement to the game.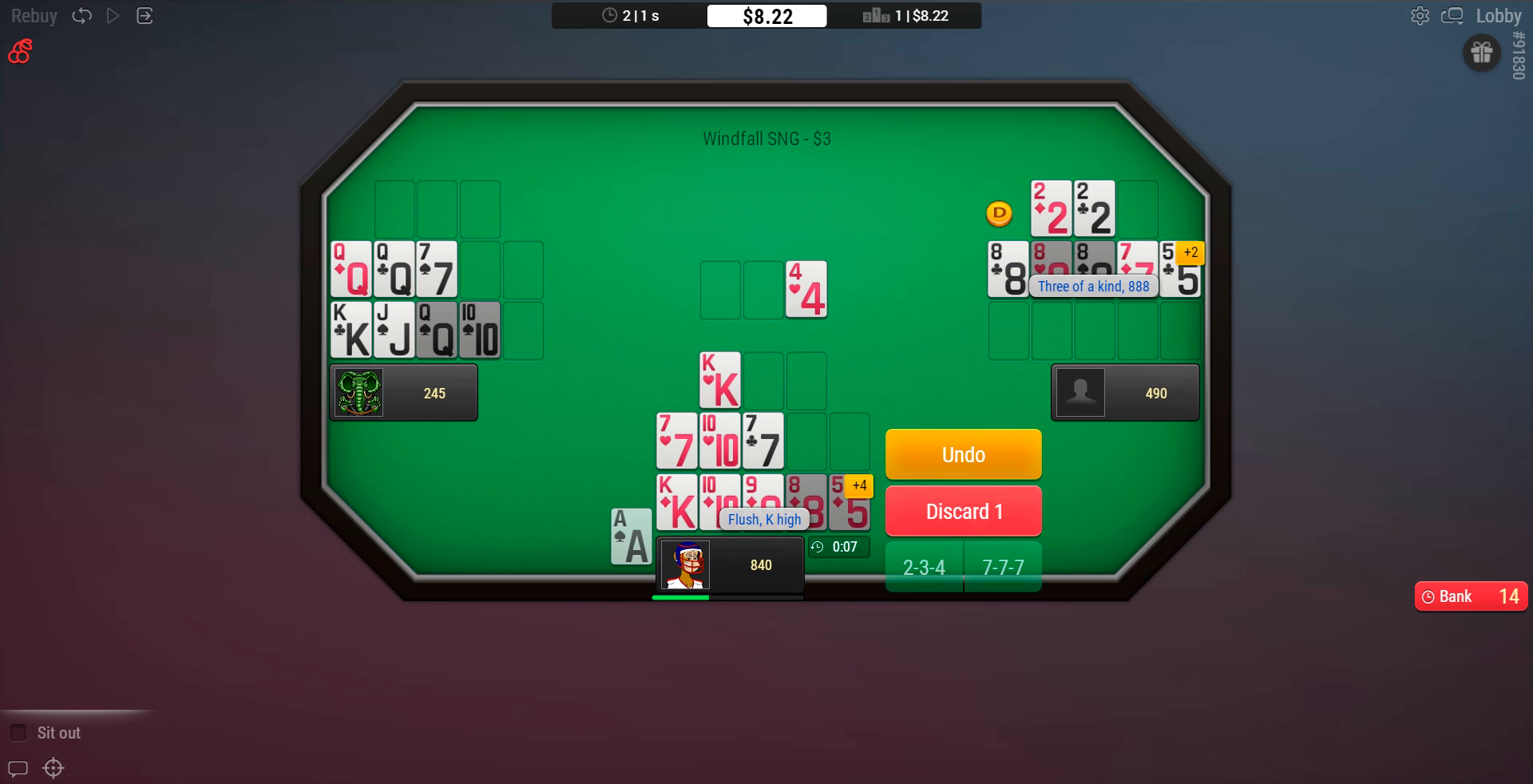 The Ultimate Goal
Arrange your 13 cards into a heart-pounding 5+5+3 configuration and collect points for each row. The player with the most points wins the OFC showdown. But beware of the "foul"—a misstep could result in a "dead hand" and a loss of points across all rows.
- Players: 3 players in a Windfall format with a Jackpot prize pool.
- Dealer Button: Moves clockwise, igniting the action.
- Scoring: Conquer a row to earn a point. Secure all three rows for a grand total of 6 points.
- Bonus Points: High-ranking hands like Flushes and Four of a Kind can earn you extra points.
Fantasyland: The Realm of Dreams
Craft a top row with Queens or better to enter Fantasyland, where you get to see all 14 cards and discard one. In Recurring Fantasyland, sustain your magic by meeting specific hand requirements, offering endless possibilities to showcase your skill.
Windfall OFC: The Prize Multipliers
- $3 Windfall OFC: Prizepool multipliers range from 2x to 500x, with a maximum prize of $1,500.
- $8 Windfall OFC: Multipliers go up to 500x, offering a whopping $4,000 prize.
Why You Should Play Pineapple OFC at TigerGaming
1. Unique Gameplay: A refreshing change from traditional poker games.
2. Strategic Depth: The discard option and Fantasyland features add layers of strategy.
3. Lucrative Rewards: With Windfall multipliers, the stakes have never been higher.
Conclusion
TigerGaming's Pineapple Open Face Chinese Poker is not just another poker game; it's an exhilarating adventure that tests your skill, strategy, and nerve. So, are you ready to embrace the rush and let the games begin?
Don't miss out on this thrilling variant. Dive in, test your mettle, and let the cards fall where they may!