INVITE A FRIEND TO WPTGLOBAL AND GET 50% OF THEIR RAKE
It's easy to invite your friends to WPT Global and if you can get them to join us, everyone wins!
Your friend will receive a welcome bonus of 100% of their first deposit up to $1,200, our most generous welcome bonus, PLUS a $55 free entry to the guaranteed WPT World Championship with $15 million in prizes, to be played this November .
You get a commission: a commission of 50% of your cash game rake, for three months.
How do you invite a friend?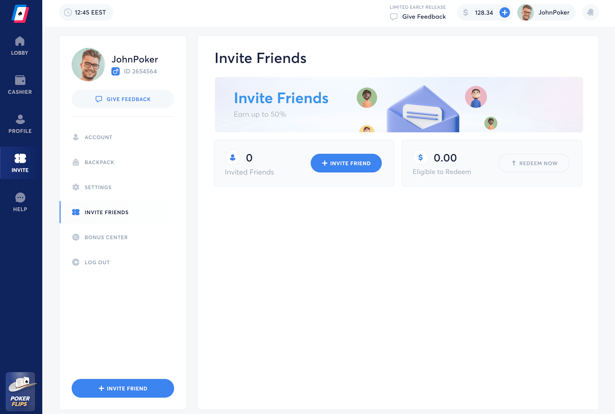 Visit 'Invite' in the poker software navigation bar. (On mobile, it's at the bottom; on desktop, it's on the left.)
Tap the 'Invite Friends' button. You can refer friends via email, Facebook, Twitter, or simply by sharing a link.
Click the corresponding button to generate a unique link that you can share. Your friend must use this link when they sign up, so we can associate them with you, and as soon as your friend starts playing: you will start earning up to 50% of the rake they generate!
How do you collect your commission?
On the "Invite" page of the poker software, you can monitor your rake and watch it grow as your friends play poker. To redeem your commission and release it to your poker account balance, simply click the "Redeem Now" button.