GGPOKER GIVES AWAY UP TO 10 MILLION IN CASH IN SEPTEMBER!
$10,000,000 SEPTEMBER CASH GIVEAWAY 2023
Can you imagine a place where every day a new opportunity to win big awaits you?
A place where it doesn't matter if you're a newcomer or a veteran, because there's something for everyone. Well, that place exists and it's called GGPoker. This month, they've prepared a prize feast that amounts to a whopping $10 million GTD, and here we're going to tell you everything you need to know so you don't miss a bit of the action. Ready to dive into this sea of opportunities?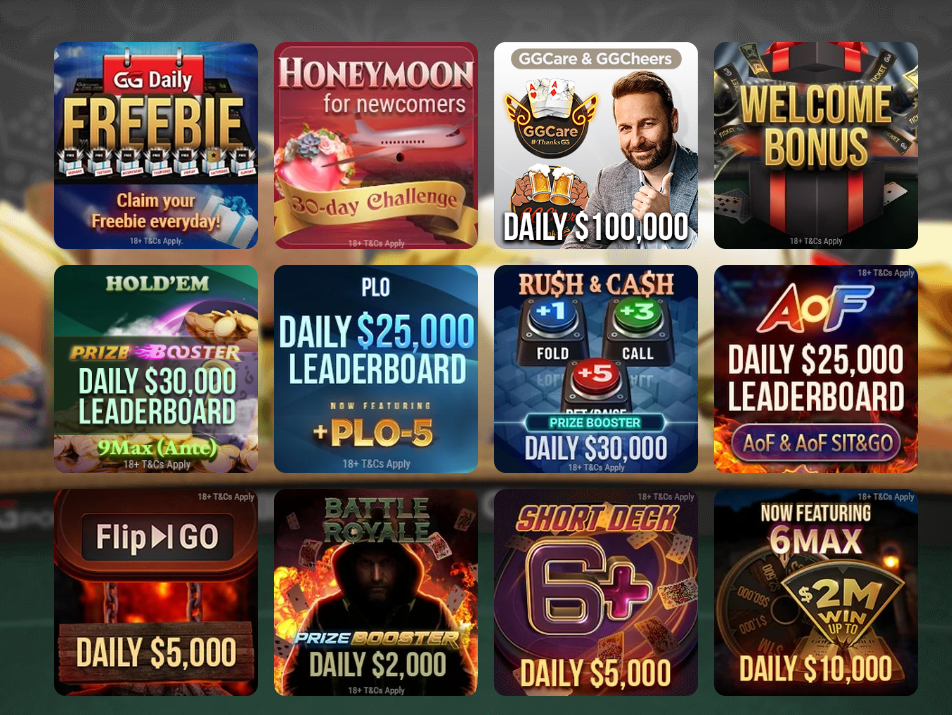 How does it all work?
If you've recently joined GGPoker, you're in for a month full of action, excitement and, most importantly, big prizes. Here I detail each of the promotions so you know what to expect:
Honeymoon for Newcomers: Imagine being welcomed not only with a $600 bonus, but also being offered a rewards package valued at up to $350 for your first 30 days. Each day you'll receive specific missions, such as winning a hand with a pair of aces, and upon completion, prizes such as tournament tickets or cash bonuses will fall into your lap.
Daily Freebie: Who doesn't love free stuff? Every day you log in, you'll stumble upon a surprise freebie. It could be a ticket to a special tournament, loyalty points that you can redeem for prizes, or even cash bonuses for you to use at the tables.
Daily $100,000 Flipout: This is the tournament for those who love excitement. All players go all-in automatically on every hand until there is only one winner left. The total pot is $100,000, so the odds are huge.
Daily $25,000 Leaderboard: If you enjoy the fast-paced action at the Rush & Cash tables, this daily leaderboard is for you. There's $25,000 in prizes handed out to the players who accumulate the most points during the day. So, if you're feeling lucky, it's time to give it your all.
Daily $30,000 Leaderboard: For those who prefer Hold'em strategy, there is another daily leaderboard with $30,000 in prizes. The more hands you play and the more points you accumulate, the closer you'll get to a big piece of the pie.
Daily $20,000 Spin & Gold Leaderboard: If Spin & Gold tournaments are your thing, this daily leaderboard is your golden opportunity. There are $20,000 in cash prizes every day, and points are accumulated according to the amount you bet and the multipliers you get during the game.
All-in or Fold Sit & Go: This is for players who have no time to waste. In these tournaments, you only have two options: go all-in or fold. And the best part is that every day $25,000 in prizes are awarded to the players who accumulate the most points.
Daily $5,000 Leaderboard: If you like fast and exciting tournaments, Flip & Go tournaments are your best option. There are $5,000 in prizes every day for the top players.
With this wide range of events and promotions, GGPoker makes sure that every player has a chance to win. Whether you prefer fast action or strategy, there is a place for you at these tables. Don't miss your chance to be part of this prize feast.