WEEKLY INVITATIONAL TOURNAMENT | Optibet
Once a week, Optibet hosts a free $300 Gtd Optibet Weekly Tournament. The tournament takes place every Friday at 19:00.
What can be won?
By participating in the tournament, you can win tickets of various prices to Optibet tournaments. The prize for first place is a ticket for $109! In total, there are 28 prizes in the tournament.
Paytable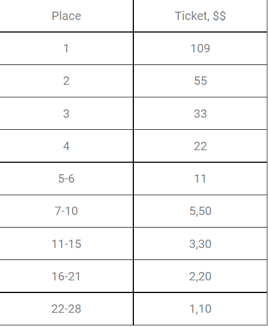 How to get an invite?
Invitation tickets to the Optibet Weekly Tournament can be obtained by participating in various Optibet promotions. The easiest way is to complete one of the daily missions. Also, you can try your luck in the Weekend Spin promotion, where in addition to invitations to the weekly tournament, you can win a cash prize of $1,000.
For other ways to get into the free invitational tournament, follow Optibet news and participate in promotions!
In December - even more prizes!
From December 2nd to December 23rd, Optibet increases the guarantee for the weekly tournament - now it is as much as $400! Get an invite by participating in promotions and compete for great prizes!
Holiday paytable: