Deliver a knockout blow in poker and earn cash rewards with Knockout Poker
Do you have the courage to take down your rivals and claim the title of the ultimate poker champion?
Sign up for Knockout Poker tournaments and you could be on your way to winning substantial cash rewards.
In Knockout Poker tournaments, every player who enters has a cash bounty attached to them. Your mission? Knock out your opponents and claim the cash prize each time.
Understanding Knockout Poker
Knockout Poker tournaments are unique Multi-Table Tournament (MTT) and Sit & Go competitions. The prize money is divided, with a portion contributing to the overall prize pool and the remaining portion awarded to players for each adversary they defeat.
Unlike traditional MTTs and Sit & Go's, you don't have to secure a place among the top winners to earn cash. Each time you eliminate an opponent during a Knockout Poker tournament, your bankroll gets a boost.
A broad selection of Knockout Poker games can be found under the Sit & Go tab and the Tourney/Tournaments tab, depending on the gaming platform you are using. Once you're set, hit the 'Register' button, and prepare to take down your opponents.
After choosing your buy-in and the type of game you want to participate in, you'll be seated at a tournament table.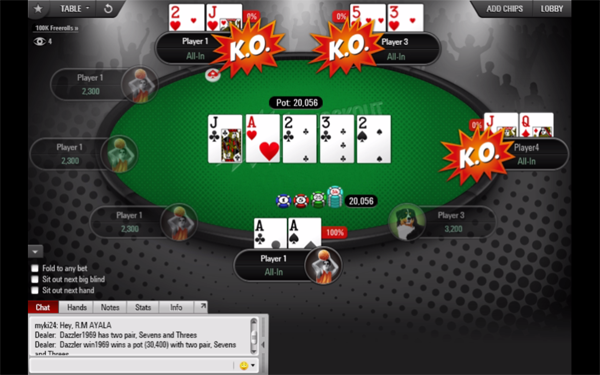 Upon eliminating a player (or players), you'll receive a notification at the table indicating the number of players you've taken out and the amount you've earned as a cash prize.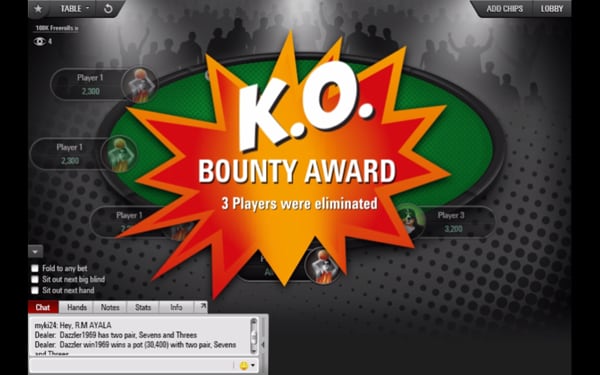 Knockout Poker Tournament Formats and Buy-ins
Knockout Poker tournaments are available in a variety of structures, including Turbo, Hyper-Turbo, and Regular formats.