Under the name of the classic board game, we can find a Texas Hold'em poker game that takes the most representative faces and icons of the traditional board game, but which is, in essence, a pure and simple poker game.
To learn more about Monopoly Poker, we have made a brief review of some of the highlights of this game, so you can enjoy it with friends and know how the game works. Make no mistake: it has little to do with the property management principles of the classic game!
Monopoly Poker: what is it?
Although it borrows elements such as the familiar face of the doll or some icons representative of the Monopoly board, Monopoly Poker is actually a 100% Texas Hold'em poker game. It has some skins with elements known from the Monopoly board, but in reality, the game works identically to any Texas Hold'em table.
Everything you knew about Monopoly has no place here. Real estate management, buying and selling property... throw all that away. Monopoly Poker is a poker game in all its splendor that, yes, has some elements of the game that have no relevance in the dynamics of the games.
One of the claims of Monopoly Poker is that it has the inclusion of SPINS and DICE in bonus plays. But the basis of the game is the same: controlling probabilities, taking into account variables and playing with numbers is what you will need to have a long run in the game.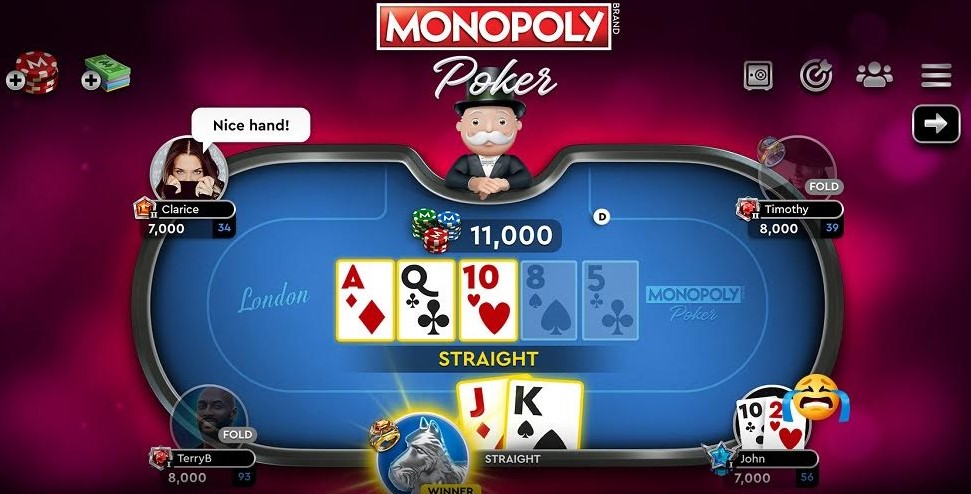 Monopoly Poker: everything you need to know to play with friends
If you don't know how to play Monopoly Poker with friends, the first thing you need to do is to form a team. You can do this by adding players in the drop-down menu, inviting them to join your game. If the table is public, there will be no restrictions in this sense, but if the table is private, only those players with an invitation will have access. If you want to play with friends only, it is best to opt for a private game.
Poker and Monopoly are two concepts that until now have never met. And even less in an online game. This allows you to enjoy all the advantages of online poker, but in a new style, making the games equally competitive. Those looking for a poker game based on another well-known game will find what they are looking for in Monopoly Poker. Those who are looking for a regular poker game will also find it, because the game is pure Texas Hold'em.
The social concept is maintained in this type of poker game. As in any other game, you will have the opportunity to join with friends by invitation, or join an existing game to start competitive play.
If you have played other poker games with a more serious aesthetic, you will be familiar with what Monopoly Poker proposes. You will soon realize that, in essence, the game is the same, only that here some elements of traditional Monopoly are used. They have an impact on the aesthetic level because, as we say, the game is pure Texas Hold'em.
What does that mean? That you can expect a tremendously competitive game where you should not be fooled by the friendly appearance of the board. Here you can find players of all levels, even professionals, who are looking for something lighter but that maintains the competitive component of conventional online poker.
A poker game with the best look of Monopoly
Far from what many believe, Monopoly Poker has not transferred anything of the board game's operation to the virtual table. That is to say, do not expect a combination of elements that make a sort of mix between classic Monopoly and poker.
What Monopoly Poker offers you is to play a game of Texas Hold'em with everything you like about poker, but with the nice elements of Monopoly to bring you closer to Monopoly, without losing sight of the fact that we are talking about a poker game that does not lose an iota of its seriousness, but borrows elements to make the game more enjoyable for all players.