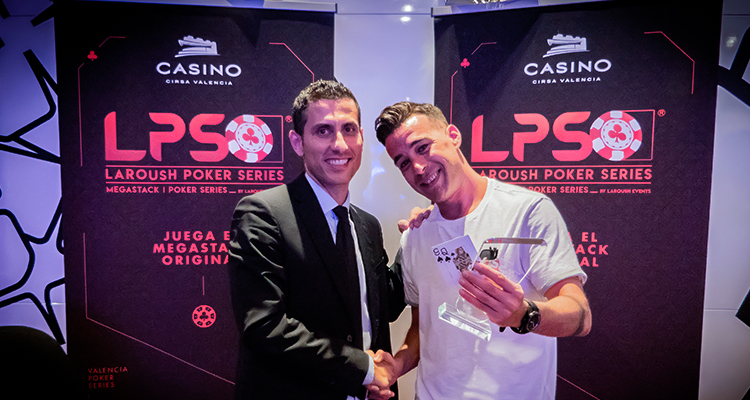 The tournament registered a field of 133 players and distributed 16,159 € total pool
Manuel Montes has won the Laroush Poker Series of Casino Cirsa Valencia. The casino was the scene last weekend of the original Megastack LPS of Laroush Poker, the one of the 100,000 points and it buys in 135 + 15 € that in this 2019 presents changes to cover the demands of the most demanding players. The Valencian Manuel Montes takes the first prize, the trophy and his ticket to the CNP888 in Alicante.
The tournament was organized with a satellite that count for Day 1 of the main event. The first day was attended by 65 players of which 33 passed the court. The following day, day 1B, a total of 68 participants were registered, of which 32 exceeded the stake to reach day two. In total, 133 players gathered at the Valencian casino to dispute the LPS and added up to € 16,159.
On the final day, up to 9 players reached the final table. After several hours of fighting without quarter, the last five survivors agreed to ICM to distribute the loot, although they continued playing to distribute the trophy and the ticket to the main event of the next CNP888. In this last play the local Manuel Montes took the icing on the cake.
On Day Two a parallel tournament was also played, the "Mini VLC Poker Series" which met 26 players and a jackpot of € 1,664. In the end they decided to pact to break the bubble between the first two: Juan Bautista Pellicer and Amparo Saez.
CLASSIFICATION TOURNAMENT LAROUSH POKER SERIES VALENCIA JULY 2019:
| | | |
| --- | --- | --- |
| 1 | ALEXANDRU RADU | 3.449,50 |
| 2 | MANUEL MONTES | 2.950,00 |
| 3 | RUDDI JURADO | 1.980,00 |
| 4 | ENRIQUE LANZUELA | 1.840,00 |
| 5 | ALVARO ARCUSA | 1.575,00 |
| 6 | CARLOS MORENO | 970,00 |
| 7 | JUAN HERREROS | 810,00 |
| 8 | FERNANDO RAMIREZ | 640,00 |
| 9 | VICENTE TAMARIT | 485,00 |
| 10 | CRISTIAN POP | 485,00 |